Another shoe has dropped…
$1.8 billion of Tesla bonds due in August 2025 plunged to a record low on Friday. The bonds traded for just 84 cents on the dollar, down from 98 cents a year ago. The yield, which moves opposite price, almost doubled over that span to 8.6%.
The action in the bond market signals mounting worry about the high-wire act at Tesla. Elon Musk is scrambling to ramp up Model 3 production fast enough to turn a profit — and use that money for looming debt payments.
"Tesla is in a cash pinch," Cowen & Co. analyst Jeffrey Osborne said in an interview. "The primary concern — above and beyond doing drugs and whatnot on podcasts — continues to be the ability of the company to generate cash."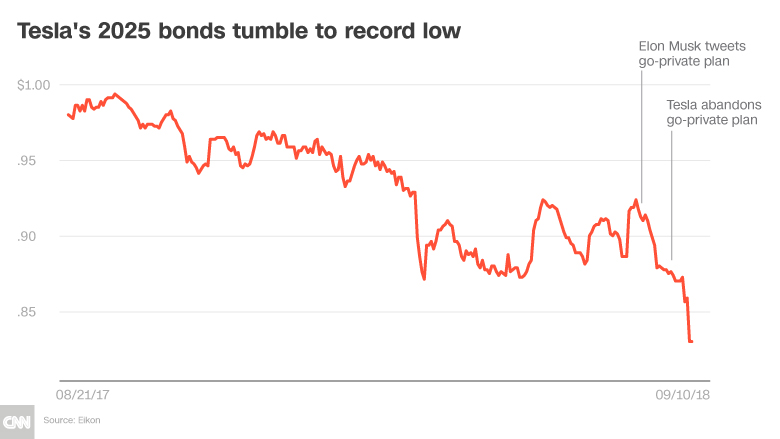 Tesla loaded up on debt to speed the company's rapid rise in the auto world.
More than $9 billion of Tesla's debt is scheduled to mature before 2025, including a total of $2.7 billion this year and next, according to a Goldman Sachs research report that called the company's balance sheet "concerning."
"Tesla is extremely leveraged. They have a gun to their heads dictated by the timing of the debt payments," said Cowen's Osborne, who has an "underperform" rating on the stock.
The financial challenge has been exacerbated by Musk's shenanigans. On Joe Rogan's podcast last week, the billionaire wielded a flamethrower, unsheathed a Samurai sword and took a puff of what Rogan said was a joint of marijuana and tobacco.
"There's been concern about Elon Musk's erratic behavior," Osborne said.
The podcast stunt follows a tumultuous August in which Musk tweeted that funding had been "secured" to take Tesla private at $420 a share. Less than three weeks later, Musk abandoned the go-private plan after what he described as a shareholder revolt. The fiasco reportedly sparked an SEC investigation into the accuracy of Musk's "funding secured" tweet.
Despite rebounding 6% on Monday, Tesla's share price has plunged 29% from the peak of $389.61 on the day Musk tweeted the go-private plan.
Tesla's decline has been driven by accelerating "management credibility issues," Needham & Co. analyst Rajvindra Gill wrote in a report on Monday. Gill has an "underperform" rating on Tesla.
Tesla stock tumbled again last week after the company's chief accounting officer suddenly resigned after less than a month on the job.
Gill is "concerned" about the rapid turnover of senior executives at Tesla, which he estimates has lost 23 executives over the past two years alone.
A Tesla spokesperson referred to previous comments in which Musk said Tesla expects to turn a profit in the third and fourth quarters.
On August 1, Musk told analysts that Tesla plans to pay off its debt instead of refinancing it. Musk has also shot down speculation that Tesla will need to raise cash by selling more stock.
"We could raise money, but I think we don't need to, and I think it's better to just not," Musk said.
It may no longer be up to Musk. Analysts say Tesla may struggle to raise cash until the dark cloud of an SEC investigation is lifted.
. . .
Got a question about cars – or anything else? Click on the "ask Eric" link and send 'em in!
If you like what you've found here – and don't like Goo-guhl or FacePlantBook – please consider supporting EPautos.
We depend on you to keep the wheels turning! 
Our donate button is here.
 If you prefer not to use PayPal, our mailing address is:
EPautos
721 Hummingbird Lane SE
Copper Hill, VA 24079
PS: EPautos magnets are free to those who send in $20 or more. My latest eBook is also available for your favorite price – free! Click here. If you find it useful, consider contributing a couple of bucks!