More evidence that the American Automobile Association (AAA) ought to have its license revoked comes in the form of "summer safety tips" offered to teenaged drivers from AAA's Foundation for Traffic Safety.
Bet you can guess.
Observe speed limits –
This is a great way to be involved in an accident, since you'll be causing a mobile pile-up all around you. You'll be tailgated and passed with inches to spare by irate drivers whom you've irritated with your law-abiding but slow-motion, obstructive driving. Note carefully: It doesn't matter that tailgating and abrupt passing maneuvers with inches to spare isn't safe – or legal. People are going to tailgate and weave around you if you slow-poke. 
Also, if you drive the speed limit, cops will assume you have been drinking or are carting illegal wares. Because no one drives the speed limit. Therefore, driving the speed limit is a surefire way to get pulled for no legal reason – but because it is "suspicious."
Be aware (no thanks to AAA) that car speedometers almost always read slightly faster than you are actually traveling – typically by about 3 or so MPH. They are set this way because the alternative – reading slightly slower than you are actually driving – would create massive liability issues for the car companies, who would be legally liable for speeding tickets issued to drivers who thought they were within the law but actually were not.
Point being, if you drive the speed limit, you are probably driving slightly below the speed limit – and this is absolutely considered suspicious by cops.The courts have even ruled along these lines.
Never drive the speed limit.
The reason almost everyone is "speeding" is because the posted limit is almost always under-posted by at least 5-10 MPH. People ignore stupid laws. If you obey this stupid law, other cars will be passing you – and bunching up behind you.
Which is  . . . dangerous.
And obvious, to any thinking brain. Just like the fact that there are differences between the sexes that transcend genitalia – but just as politically incorrect to acknowledge, especially in an official pronunciamento directed at teen drivers. Rather than give them the straight dope, that the safest speed is the speed of traffic – whatever that happens to be and posted limits be damned –  they must be fed dangerous nonsense for the sake of appeasing the PC powers-that-be.
It is exactly like the Reefer Madness idiocy of my youth. And the youth realize it's idiocy, incidentally.
Or so one hopes.
Buckle up –
The holy catechism of the  Safety Cult.
It is quite true that wearing a seat belt will generally – but not always – lessen injuries in the event you crash. They also sometimes kill you, though – and that fact is never talked about by "experts" in the presence of teenagers because, gosh, they might actually decide to weigh the risks against the benefits – and make up their own minds. Can't have that.
Independent judgment must be smothered. Mindless rule-following must be instilled.
And seat belts confer no safety benefit whatever if you don't wreck. It is very interesting that avoiding accidents is not among the AAA's safety tips.
And most "accidents" are avoidable. Chiefly because they are not accidental. A tree struck by lightning at exactly the moment your car happens to be passing underneath a heavy bough – which then falls on your car's roof, crushing it – that is an accident. A deer bounding into your car's flanks is an accident.
Most wrecks, on the other hand, are the result of various avoidable incompetences behind the wheel and thus not accidental.
One wonders why the Safety Solons of AAA do not discuss maintaining a safe following distance between one's car and the car ahead? Even with modern idiot-proofing technologies such as anti-lock brakes, a car needs "x" distance (and time) to achieve a complete stop. The closer you are – and the faster you are moving – the lower your chances of being able to stop in time. But not a mention of the old – but still ironclad valid – Three Second Rule.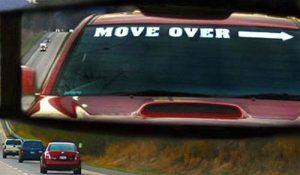 Pick a stationary object such as a telephone pole or road sign and note when the car ahead reaches it, then begin counting seconds. If less than three seconds elapse before you reach the same spot, you are following too closely – ABS or not. Increase the following distance and you will have time to stop if the car ahead suddenly stops.
Why doesn't AAA mention this?
Or, lane discipline?
No injunctions about the danger – or the obnoxiousness – of squatting like a toad in the left lane when it's obvious – or would be, if you looked in the rearview – that there are cars stacking up behind you, probably tailgating.
Move right, let them by.
It is safe, it diffuses road rage. Why doesn't AAA mention it?
Surely it is of more relevance as a saaaaaaafety issue than "…be sure to have current insurance identification in your car" and "… be especially cautious in construction work zones"… as opposed to running through them at Top Speed, drunk, with one hand on the wheel.
If you like what you've found here, please consider supporting EPautos. (Latest radio guest appearance can be heard here.)
We depend on you to keep the wheels turning!
Our donate button is here.
 If you prefer not to use PayPal, our mailing address is:
EPautos
721 Hummingbird Lane SE
Copper Hill, VA 24079
PS: EPautos stickers are free to those who send in $20 or more to support the site.