How much is a (roughly) 10 MPG improvement worth to you?
How about $12,940?
That's the price spread between the hybrid GS450h and the non-hybrid (but otherwise pretty much the same) GS350.
$63,635 vs. $50,695. 
In return for 29 city/34 highway – vs. 20 city, 29 highway.
From an engineering point of view, the hybridized Lexus is pretty cool.
It's like the Prius – but also not like the Prius.
It is quiet – silent – when operating in EV (electric vehicle) mode, on just the batteries.
Which it can do all the way up to about 40 MPH.
But – unlike the Prius – the GS450h goes when when you need it to.
Five-point-six seconds to get to 60. Twice as quick as a Prius.
But does it make economic sense?
The GS450h is almost three times as expensive as a Prius (and almost $13k more than the even quicker-to-60 GS350) which renders kind of moot any considerations about how fuel-sippy the GS450h is.
So, why?
That's the $12,940 question!
WHAT IT IS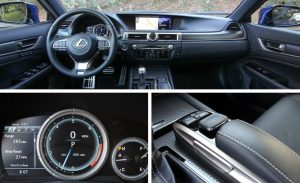 The GS450h is, obviously, the hybrid version of the mid-sized Lexus GS series luxury-sport sedan. It is also the top-of-the-line version of the GS luxury-sport sedan, with a base price of $63,635 – vs. $50,695 for the basically-the-same GS350 and $45,615 for the base (and less fancy and four cylinder-powered) GS200t.
In addition to the obvious – its hybrid gas-electric powertrain – the GS450h comes loaded with luxury and tech amenities that are either optional or not available in the lesser trims, including 18-inch wheels, heated and cooled front seats, an upgraded 12.3 inch LCD touchscreen, electric/power-activated rear privacy screen, a heated steering wheel and a 12 speaker surround sound audio system. The hybrid also gets additional gauges and displays in both the main instrument cluster and the secondary 12.3 inch touchscreen.
You can add heated rear seats, a 17 speaker Mark Levinson ultra-premium audio rig, driver drowsiness monitor and – hilariously – the Lexus F Sport high-performance package (19 inch "summer" tires, driver-adjustable adaptive suspension with "dynamic" rear wheel steering, a body kit, diamond plate interior trim, etc.)
Hilarious because this is, after all, a hybrid.
Just one that hauls.
The obvious cross-shops are BMW's 5 Series ActiveHybrid – which stickers for $62,100 to start – and the Acura RLX hybrid, which stickers for $59,950. The BMW's chief advantage is that it costs a bit less. But it is less fuel-sippy than the Lexus, especially in city driving (just 23 MPG) which makes its purchase even harder to grok.
The Acura RLX is a stronger contender.
It costs a lot less than either, is quicker (5.4 seconds to 60)  and it comes standard with all-wheel-drive, which neither the Lexus nor BMW hybrids offer.
If economy of operation is a big consideration, you might also want to check out the diesel-powered Mercedes E250 BlueTec ($52,650). It's not nearly as quick as any of the hybrids in this class – zero to 60 takes about 7.5 seconds – but it is capable of an astounding 42 MPG on the highway (28 MPG  in city driving, better than the hybrid BMW and almost as good as the hybrid Lexus) costs about $11k less than the Lexus, $10k less than the BMW and about $7k less than the Acura.
AWD is available, too – and it still costs less when ordered that way.
WHAT'S NEW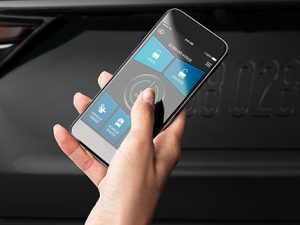 The Lexus Enform suite of apps has been updated (the engine can be started remotely and climate control settings and other such adjusted from your smartphone) and the automatic braking system now includes pedestrian detection.
WHAT'S GOOD
Goes farther in between fill-ups (about 150 miles more in city driving than the GS350).
It may be a hybrid, but it's not a Prius.
Roomier back seats (36.8 inches of legroom) than the BMW's (35.3 inches) and the Benz's (35.8 inches).
High-performance F Sport stuff is available (Benz doesn't offer an AMG upgrade for the E250; BMW only offers M Sport appearance upgrades for the hybrid 5 Series).
WHAT'S NOT SO GOOD
Most expensive of the bunch.
Acura's back seat (38.8 inches) is much roomier than all of 'em.
No AWD option.
Hard to grok the economic point of it all.
UNDER THE HOOD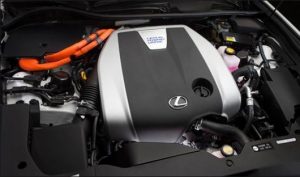 You're paying more – so you get more.
Multiple motive sources.
First, there's the IC engine – a 3.5 liter V6, the same basic engine you'd get in the GS350. The hybrid side of the powertrain consists of a pair of high-torque electric motors and a nickel metal hydride (NiMh) battery pack for supplemental and auxiliary power.
Depending on the situation – and driver demands – the car can roll on just the electric side of the hybrid drivetrain (IC engine off) at speeds up to about 40 MPH – or the combo can work together to generate a total wallop of 338 hp (vs. 241 in the GS200t and 311 in the GS350) for maximum effort acceleration.
Which is about 5.6 seconds to 60.
This is speedy by any measure – but particularly by hybrid measures.
The car is also fuel-efficient (though not by Prius measures).
Its 29 city, 34 highway is very good for a large (and swift) luxury sled. Better than the BMW 5 hybrid (23 city, 30 highway) and the Acura hybrid (28 city, 32 highway).
However, the diesel Benz E-Class cleans all their clocks – in every way except by the stopwatch.
It rates 28 city, 42 on the highway – the latter figure being exceptional (and not too far off the pace of the Prius) and without the expense of the hybrid powertrain. The thing can go almost 900 miles on the highway without a pit stop for fuel. That's about 200 miles more than the hybrid Lexus can travel on a full tank (and charge).
Speaking of which: You can't top off the GS450h's batteries via a household outlet because there isn't a plug-in port. BMW has been adding this feature to its latest-generation hybrids (for example, see this review of the BMW X5 eDrive) as a range extender, in order to make the "math" more agreeable.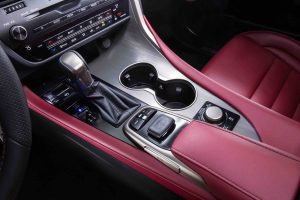 The GS450h is the kind of hybrid that recharges itself – using the V6 IC engine as an onboard electrical generator. This is convenient, but it necessarily means burning gas to gin up current to feed the batteries, which power the electric motors. In order for them to be operational, the gas engine must operate.
In a plug-in scenario, you can hook the vehicle up to a household 120V outlet (or 240 V "fast charger") and top off without turning on the engine. For short hops – about 15 miles, give or take – you can drive on just the batteries, without the IC engine coming online to feed current to them. If you have a commute that's 15 miles or less, you could possibly get to work (and back, assuming you can plug-in at work) without using any gas at all.
This makes the hybrid layout make more sense – even with gas only costing a couple bucks per gallon. If you save say $2,000 a year on fuel – which is doable for some people – you could earn back the money you spent to get the hybrid before you finish paying off the loan.
And when you feel the need for speed… .
ON THE ROAD
The silent drive is pretty amazing.
Assuming a full charge, when you push the "start" button, you will not be greeted by the familiar-for-going-on-100-years-now spin of the starter and the coming to life of the engine. The tach needle doesn't move (in F Sport variants, there is no tach, unless you've toggled up that display by selecting Sport or Sport+).
No hint of mechanical life at all.
But the warm glow of the instrument cluster and a slight whirring sound from deep within give notice that something electrical is alive.
Put the transmission – a continuously variable (CVT) automatic – into Drive and off you go.
Rolling on electrons, up to about 40.
Go faster (or harder) and the V6 comes to life – but not so you'd notice it.
A high-speed/high-torque motor fires it as close to instantaneously as is mechanically possible. No physical sounds – or sensations – accompany this. There is a graphic display you can pull up on the secondary 12.3 inch LCD cluster that shows you what's doing what. That is – pretty much – your only way of knowing. In the main instrument cluster, the default gauge is a circular LCD display that indicates Charge, Eco and Power. If you select Sport or Sport+ mode, this changes to a large, LFA supercar-style tach.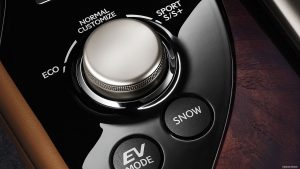 Tread on the accelerator lightly and you can hit the promised 34 MPG.
But what impressed me more was that it was hard to reduce consumption much below the high 20s the way I tread on the accelerator – which isn't lightly. A week into my test drive and I've still got more than a quarter tank left. In the regular GS350 – which I drove last year – I sucked it dry before the week was out.
After three days of not-so-tread-lightly driving.
This rocks.
It's just too bad it costs.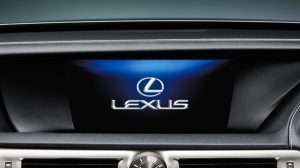 That is the only fly in the hybrid pie. This car does everything well. But so does the non-hybrid GS350… for almost $13k less.
Unless gas prices go up – a lot – it is hard to make an economic case for the hybrid.
But, you can make a case for it on other grounds.
The silent drive being one.
Luxury cars tout how quiet they are. Nothing is quieter than an engine that's not running at all. Hear the sounds of silence. If they could be prolonged by a plug-in option, the extra money you spent seems more and more worth it.
Another thing about this Lexus vis-a-vis some of its rivals is that (per earlier mention) it is available with the high-performance F Sport equipment package that's also available in the regular(non-hybrid) GS. It includes more than just snorty appearance stuff like a body kit and diamond plate interior trim, too. You get a 19-inch wheel/tire package with low-profile summer rubber, upgraded brakes and higher-effort "dynamic" steering, sport buckets (12-way adjustable for the driver) and a more aggressive adaptive suspension with Sport+ mode.
These kick the handling/reflexes up a notch in a have-your-cake-and-eat-it-too kind of way.
Now, if only they could figure out a way to add a de-clutching supercharger, Mad Max style, to the V6.
Would't that be righteous?
AT THE CURB
A Prius, this isn't.
Lexus – formerly a stately purveyor of discreet-looking luxury sleds – is courting a different demographic now. One about 20 years younger than the first-generation of Lexus buyers – who were mostly Benz and BMW buyers looking for something like a Benz or BMW just cheaper and better-built.
But this car is not a Just For Men-looking car.
If you order the F Sport package, especially.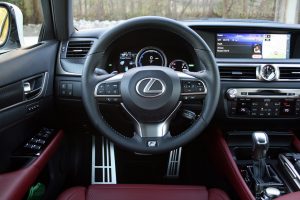 I'm getting too old for this car.
But, Youth is the Future. Or at least, young-looking middle age.
Hence the wild-looking front clip with its reptiloid angles and hungry-looking spindle grille jutting, Mussolini-like, into the wind.
And,inside, where there is almost nothing analog except the clock (and there is a secondary digital one of those, too). Even the indicators for the climate control temperature settings (dual) are digital – but cooly mimic a rollover analog look.
The toggle mouse and trackpad will give conniptions to the 50 and over set, but the people Lexus is after are natives when it comes to such stuff. Car reviewers (the older ones, with hair growing out of their ears) carp about the difficulties, but don't buy in before you've sat in (the car) and tried it.
You might find you like it
Lexus – uniquely – gives you an ergonomic spot to rest your wrist/palm while you work the toggle. There is  drag built into the thing, to – which makes it harder to make a mistake and click on the wrong thing. I much prefer this system to the free-of-any-tactile feedback smartphone swipe/tap alternatives. Hard enough to use them when the car is stationary.
Try when it's moving.
The back seats have better-than-Benz (and BMW) legroom, but none of them can touch the class-leading Acura RLX – which has almost 39 inches of legroom. However, if you plan to put taller people back there, be aware that the Lexus (and the Acura) are short on headroom vs. the Teutonic Twins. The BMW's got 38.3 inches – the Benz 38.2 inches. Meanwhile, the GS has just 36.8 inches (the Acura's got barely more, 36.9 inches) which may be a function of these cars being made by Japanese rather than Germans – the latter more often being over six feet than the former.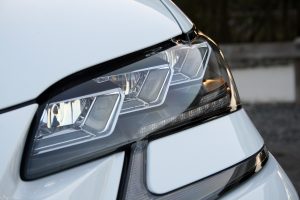 You also lose some trunk space by going with the hybrid (13 cubic feet vs. 15.9 in the non-hybrid GS200t and GS350) and the back seats don't fold forward (due to battery packaging issues). But you do get a pass-through to the trunk.
As an aside, the otherwise-spacious Acura RLX hybrid has a much smaller 11.6 cubic foot trunk – and the hybrid BMW has a ridiculously tiny 10 cubic foot trunk – not much more room than you'd get in a Miata.
THE REST
Another issue (besides the headroom issue) that seems to be an issue with Japanese cars generally – and the GS450h is no exception – is mediocre seat heaters (and heated steering wheel).
They get lukewarm.
Not hot.
Try a German car if you want heated seats.
Also: The F Sport's 19-inch wheel-tire package do stiffen up the ride – perhaps too stiffly. This is a subjective thing, of course. Your mileage may vary. But take a long test drive (45 minutes, at least) before you decide.
THE BOTTOM LINE
It's slick, seamless and absolutely brilliant from an engineering point-of-view.
I'll leave the economics of it up to you.
EPautos.com depends on you to keep the wheels turning! Clovers hate us!
Goo-guhl blackballed us!
Will you help us?
Our donate button is here.
 If you prefer not to use PayPal, our mailing address is:
EPautos
721 Hummingbird Lane SE
Copper Hill, VA 24079
EPautos stickers – new design, larger and magnetic! – are free to those who send in $10 or more to support the site.