Have you seen the Steampunk BMW?
Yes, I know – it's the "scrambler" version of the R 9T. Which means it has high-mounted pipes and higher bars and fat tires with John Deer-esque tread for rooster-tailing clods of sod out in the back field.
But it's more than that – and more fun than that, too.
Holy hell I had a good time on this thing. Snap wheelies through third gear from the 110 hp cc boxer twin. Hooved Hassler coming for you? See whether he can follow you in the woods.
A single round headlight, defiantly challenging the slipstream.
Flat track seat, covered in "patinised" mocha-colored leather Jacket.
"Monolith metallic" matte silver painted tank and pewter trim.
No fuel gauge. Zero the trip meter, dude.
ABS available – but optional.
It even has fork gaiters. And a '70s-looking steering damper bolted to the head, too – just like my '72 CB750 had!
What it hasn't got is a sticker price that'll make you think twice: $13,000 to start  – about what you'd pay for a decent used schlepp car – but this bike's 110 hp, exhaust raspberry and wind-in-your-hair is much more likely to put a smile on your face than a good deal on a circa 2012 Corolla.
Which you can't take off into a field with to escape a Hooved Hassler.
WHAT IT IS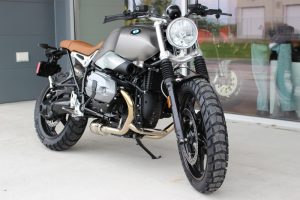 Take an R9T muscle bike/naked/super standard (BMW calls it a "Heritage" bike) and make it retro-cool and go-almost-anywhere with high-mount Scrambler-type exhaust (hence the name) a slightly longer wheelbase, more suspension travel, revised peg position, a 19 inch rim up front (vs. the 17 on the regular R9T) and fatty clod-hopper M/S knobbies on both plus – yes – old timey-looking telescoping forks and gaiters in place of the R9's anodized inverted tubes.
Then take $2,095 off the price vs. the R9 T non-Scrambler, to make it more affordable.
Steampunk doesn't just look cool.
WHAT'S NEW
This is the Scramblerized version of the R9 T's second year in production; no major changes for 2017.
WHAT'S GOOD
Scatter the herd.
Won't break the bank.
What motorcycling was once – and can be yours again.
WHAT'S NOT SO GOOD
The clod-hopper tires are noisy at speed – and cost you about 7 MPG vs. the regular R 9T.
Zero, nil storage.
Pack light.
UNDER THE TANK
The R9T Scrambler's 1170 cc air-cooled flat twin appears to be the same powerplant as the regular R9's, but there are a number of little differences.
Both make a strong 110 hp – enough to pull the front wheel up on throttle twist alone – but the Scrambler's version peaks slightly higher, at 7,750 RPM vs. 7,550. And torque peaks at 86 ft.-lbs. for the Scrambler vs. 88 for the R9T (both at 6,000 RPM).
This might be on account of the Scrambler's fuel charge being sprayed into the intake pipe, almost old school carburetor-style. And check out the offset ram-air intake tube on the bike's right side.
You also get a stronger (720 watt vs. 600) alternator, which ought to make sure the available heated grips never become merely warm.
The obvious difference is the Scrambler's high-mount pipes – and not just the high mount part. The sound is a grabber. Not because it's loud but because it's different. People hear it coming, but – like an old air-cooled Porsche or two-stroke bike – the ear harkens to that distinctly not-inline grumble.
The air-cooled layout adds to the auditory joy. You can hear the pistons scraping, almost.
Both bikes are, of course, shaft driven. The six-speed transmissions are the same.
Because of the rolling resistance of the Scrambler's 120/70 R19 (front) and 170/60 R 17 Metzeler Karoo M/S knobbies, mileage drops by 7 (to 45 MPG) from the standard R9T's 52.
Remember to zero the trip meter.
ON THE ROAD
People not hip think "R9" means it's a 900. Nope. That twin is a big 'un. Both size and power-wise. It makes almost as much power as the 1200 inline four in my '03 Kaw ZRX1200 and does it without a radiator – which is (cue Darth Vader voice) most impressive.
Very few air-cooled engines left that make real power. This is one. And – hp aside – no worries about flying rocks or other debris punching a hole in the radiator and leaving you bleeding, far from home and help.
110 hp and almost 90 ft.-lbs. of torque  in a 485 lb. frame is a great recipe for power wheelies, which this thing will do on command. Apply full twist with forethought and readiness for the result all the way through third.
This is a quick bike – but be careful about speed. There is a sticker on the brake reservoir: Vmax (i.e., maximum velocity) 100 MPH.
Yeah.
But it'll go "over 125 MPH." BMW's words, not mine.
A lot more, let's just say.
Despite the knobbies, it'll lean. It just takes a bit more work. Knee the tank with your right leg just before that left-hander coming up; shift your weight and roll with the bike. It'd do much better with sport tires, like the ZR-rated rubber on the regular R9T – but then it'd be harder to evade the Hooved Hasslers. With these clod-chuckers, you can veer off into a field, the woods – almost anywhere.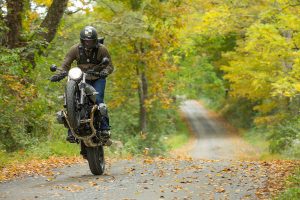 That is freedom, friends.
There is no tach, but there is a rev limiter to prevent any mechanical catastrophes. This engine is a torquer, though. Super strong on the bottom and and in the mid-range. This makes it a very friendly commuter, if you wanted – and it helps off road, too.
It is weird in a very fun way to have 110 hp on the grass – or the gravel.  And with the optional ABS/stability control, you can pour on full throttle coming up a 9 percent gravel grade – I did this – and not worry about strange and ugly results. The engine burps a little as the ECU dials back power as traction goes away – then recovers. Once you get used to all that power (Darth Vader, again) turn off the ABS and have a go.
Wind protection, of course, is nil – but the flat-track seat is surprisingly all-day butt-friendly, even for a guy with a skinny butt like me. The ergos – bar height and pegs – are damn near perfect for a tall (6ft 3 ) geek like me, too.
Probably because the guys who designed it – Germans – tend also to be tall geeks like me.
AT THE CURB
In the shuffling madness, comes locomotive breath.
This thing looks like a movie prop, almost. Something from the Will Smith remake of Wild Wild West, for instance.
Or, Hellboy. Yes, that. Exactly.
Picture the evil Nazi – Karl Ruprecht Kronen – on it.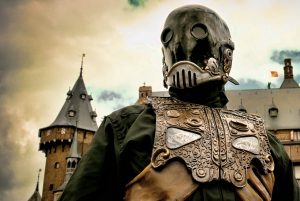 In a good way.
We've gone over some of the differences, in general, between the R9T and the Scramblerized version. Here are specifics: Three section frame with two rear sections, including a removable stern section, to nix the passenger pegs if you like. Narrower (43 mm vs. 46 mm) fork tubes, not inverted. Modded BMW Motorrrad Paralever central rear spring with manual preload and damping. 61.5 degrees of steering head angle vs. the R9T's 64.5 – and 4.9 inches of suspension travel vs. the R9 T's 4.7 inches.
The Scrambler is also about two inches shorter, end to end (85.6 inches vs. 87.4 for the R9 T) and the seat's about two inches higher (32.3 inches vs. 30.9) but these stats don't convey the look of the thing.  
Which it also draws – plenty of.
Park and people gather. They are curious – and complimentary. It is a good-looking thing. Everything about it is right. The combination of the squat, the matte-silver paint and mocha-dyed seat and all the steampunkian styling cues, including that fabulous asymmetric ram air intake tube and even more fabulous kicked-up Scrambler twin-muffler exhaust.
If you don't dig it, I dunno. Maybe bikes are not your thing.
THE REST
The only sucky thing is no place to put anything – not even a wallet. When they dropped the bike off, it had the owner's manual and paperwork separate – because there is no place to put it.
You can unscrew the seat via a single torx bolt (BMW thoughtfully provides a sardine can opener-style key for this) but it's hardly worth the effort. You can maybe slide a few pieces of paper underneath.
You will need a jacket with pockets – or a backpack.
But otherwise?
THE BOTTOM LINE
I'm really hoping BMW forgets I have it.
If you like what you've found here, please consider supporting EPautos.
We depend on you to keep the wheels turning! 
Our donate button is here.
 If you prefer not to use PayPal, our mailing address is:
EPautos
721 Hummingbird Lane SE
Copper Hill, VA 24079
PS: EPautos stickers are free to those who send in $20 or more to support the site.