Just before a tsunami wave hits, the sea withdraws – briefly – and people who don't know better enjoy (also briefly) poking around the uncovered sea bed.
What happened yesterday with regard to the replacing – but not repealing (Republicans couldn't bear to get the government out of the health care business) of Obamacare with a GOP generic version of the same drug but with different side effects all but guarantees a tsunami of another sort:
Nationalized health care.
The so-called "single payer" option. Which, of course, will be very much not an option. Rather than an individual mandate there will be a collective one. The entire country will be cattle-chuted into socialized medicine. We'll all be "covered" – and taxed to death to pay for it, too. Go to the doctor anytime you like!
And everyone gets the bill.
Like the "rest of the world" – as its love-it-long-time advocates constantly mantra.
This has to have been The Plan all along – and the Republicans deserve a steady diet of fish heads – not cooked – in perpetuity. But we're imbeciles for believing, if we did, that they wouldn't Lucy-holding-the-football-us again.
Firstly, they did what they always do – which is to Me Too whatever the Democrats do and thereby affirm the essential principle, which is now as set as three-day-old concrete.
Instead of getting rid of Obamacare – which they initially promised they'd do – they enshrined government's "role" as Medical Decider. The debate going forward will not be about whether government has a "role" issuing fatwas about health care or health insurance but the form that role will take.
Republicans excel at this.
They always have "more efficient" versions of omnipresent government. Remember with whom you are dealing. Republicans are the Party of Lincoln. The guy who "restored the union" . . . at bayonet point. The Southern states were only looking to depart in peace – not to take over the North.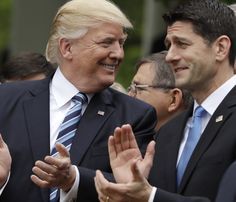 The so-called "Civil War" is as etymologically abusive as referring to "customers" of the IRS.
The point being, Lincoln could not abide the idea of people opting out, being left in peace to do their own thing sans the bayonet in the back.
Republicans ever since have followed that example.
Insurance companies are despicable – but chiefly because they've been empowered by the government – by Republicans as much as Democrats. Democrats gave them the power to force everyone to buy their services – or else.
Big surprise, the cost of their services went up.
Now, Republicans have told insurance companies they must cover "pre-existing conditions" – which is exactly the same thing as requiring car insurance companies to issue policies to habitual offender drunk drivers. But they may charge accordingly.
Expect the cost of such insurance to go up. A great deal.
For everyone.
Because someone's gotta pay.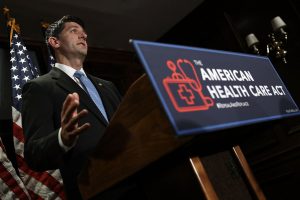 Under Trump's "plan" – they always have "plans" for us, don;t they? – you will not have to buy insurance, but if you do it will cost a fortune because of the cost of "covering" people who incur chronic expenses.
One feels sympathy for the sick and the old – which is much exploited by the Democrats and the Republicans, who are merely shape-shifting permutations of the same thing. But the cold fact is that insurance is something not supposed to be used regularly – else it is no longer viable as insurance.
Insurance, as an economically viable thing, works only when most people pay in but only a few cash in. Its purpose is to cover possible but not likely occurrences that would otherwise be financially ruinous. By turning insurance into a kind of debit card used for the routine and expected things, everything from kids with the sniffles on up, insurance has become financially ruinous.
And not just insurance, either.
Because almost everyone who has insurance is using insurance as a debit card, the cost of medical care has inflated like a Weimar Deutschmark – to such a degree that it has become unaffordable to get care without insurance. Most doctors' offices have more desk fraus than doctors – the sour menopausal ladies who deal with all the paperwork. These cost money, which is extracted from the paying customers, especially those who are not insured because the cost of their care isn't "capped" or haggled over between the insurance companies and the desk fraus.
Thus, as anyone who has experienced it knows very well, fee-for-service medical treatment is as or more expensive than being "covered."
Routine stuff – some salve and a bandage for second-degree burns from touching the stove, a bad cut that needs a few stitches – routinely costs so much if you have to pay for it out of pocket that many people have to go into credit card debt to pay the bill. Or they simply don't pay the bill and (writ large) costs continue to spiral upward.
Coming – and going. Either you pay a fortune for "coverage" or you pay a fortune for "care."
This will not endure. It cannot endure.
And then – ta da! – single payer. The cattle will moo as one demanding it.
As intended.
If you like what you've found here, please consider supporting EPautos.
We depend on you to keep the wheels turning! 
Our donate button is here.
 If you prefer not to use PayPal, our mailing address is:
EPautos
721 Hummingbird Lane SE
Copper Hill, VA 24079
PS: EPautos stickers are free to those who send in $20 or more to support the site.