Ford's former CEO, Mark Fields, got fired the other day after a year of free-falling Ford stock prices – down almost 40 percent.
He walks away with about $57.5 million in compensation.
The largest portion of the ex-CEO's payout is in unvested stock awards, valued at $29.4 million as of Wednesday's close, according to data compiled by Bloomberg News. Those will vest through 2020, with the majority tied to performance goals. Fields also is entitled to about $17.5 million in retirement benefits, plus stock options worth $8.1 million and an estimated prorated incentive bonus of about $2.1 million.
Fields agreed to resign May 19 after the board lost confidence in his ability to embrace the rapidly changing nature of transportation while managing through a declining U.S. auto market. He was replaced by Jim Hackett, the former CEO of office-furniture maker Steelcase Inc., who was leading Ford's foray into self-driving cars and ride sharing. Despite Ford's stock slide during Fields's nearly three years as CEO, the automaker earned record profits.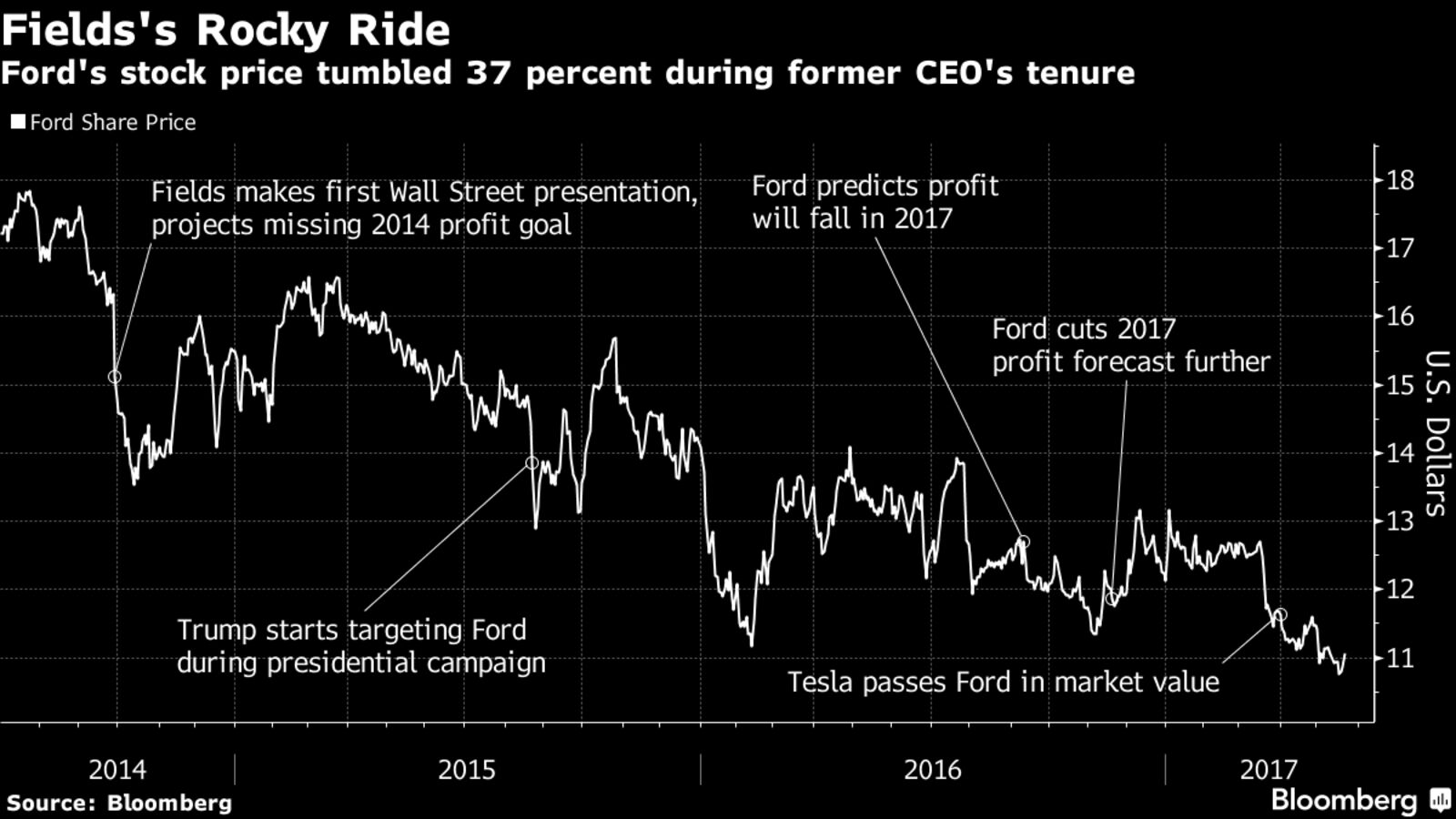 "I'm very thankful to Mark and he had a really terrific career here, but this is a time of unprecedented change," Executive Chairman Bill Ford said Monday at a press conference introducing Hackett as the new CEO. "A time of great change, in my mind, requires a transformational leader and thankfully we have that in Jim."
Fields, 56, will retain "reasonable use" of Ford's corporate aircraft until Aug. 1, the Dearborn, Michigan-based company said in a filing Wednesday. He is also eligible for an annual bonus, pro-rated from January to August, and will retain the equity awards granted under this year's long-term incentive plan.