Most crossover SUVs can't cross over very much. They lack the clearance – and the capability. They are basically – actually – cars masquerading as SUVs. They are built on car underthings – light-duty, front-wheel-drive car platforms. With a light-duty all-wheel-drive system usually available optionally.
They are better in the snow than the cars they're based on – but expecting them to deal with anything more serious than a couple inches of fluff on paved roads is expecting too much.
With the exception of this Jeep Cherokee.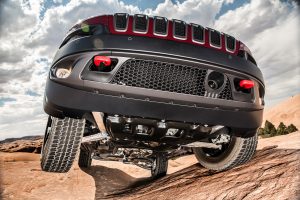 It is also based on a FWD car platform – the same "compact wide" platform shared with the Dodge Dart and Chrysler 200 sedan (RIP) as well as the Alfa Giulietta. It is not – like traditional Jeep vehicles – including the Wrangler and Grand Cherokee – built on a rear-drive based layout – and does not offer a truck-type 4WD system with a two-speed transfer case and Low range gearing.
But unlike any other car-based crossover, this thing has some real-deal off-road guts – as well as some off-road clearance.
And that's what makes this Jeep Cherokee not just another crossover SUV
WHAT IT IS
The Cherokee is Jeep's medium-small crossover SUV – a step up in size and capability from the entry-level Compass and Patriot and other car-based, light-duty crossover SUVs. It is the replacement for the less-than-successful Liberty and Commander models, which have been discontinued.
Unlike almost all the other vehicles in its class, the Cherokee is available with a V6 – and it can pull more than most: 4,500 pounds – best in class).
And unlike all the other vehicles in its class, it offers off-road capability. Not a truck-type 4WD system and two-speed transfer case, but a clever modification of its continuously variable (CVT) automatic transmission that gives it the same kind of leverage: a 56:1 crawl ratio that's a cut above the light-duty AWD systems offered in rival crossover SUVs.
This Jeep can cross over. 
Prices begin at $23,695 for the base Sport trim with FWD and 2.4 liter engine. A top-of-the-line Overland stickers for $37,695.
There are several other trims, too – including Latitude, Altitude and Trailhawk – and a 75th Anniversary model.
Possible cross-shops include the Ford Escape, Honda CR-V, Toyota RAV4, Subaru Forester and other medium-small crossover SUVs in the same general price bracket. However, none of these others offers the off-road capability you can get in the Cherokee – or a V6 engine upgrade.
WHAT'S NEW
The Jeep's Uconnect interface now features Siri EyesFree compatibility and the 8.4-inch LCD touchscreen gets a few tweaks, including a "drag and drop" menu and a Do Not Disturb function for Bluetoothed cell phone calls.
The 75th Anniversary package is also new for 2017.
WHAT'S GOOD
It not only looks the part, it can play the part.
You do not have to buy the optional V6 to get the most rugged Active Drive II system.
Most towing capability in the class.
WHAT'S NOT SO GOOD
Less cargo capacity than competitors – several of which are smaller overall.
Nine-speed automatic "jumps" forward at times – a fuel saving measure that doesn't hurt anything but feels weird.
Wider-than-most turning circle (37 feet).
UNDER THE HOOD
The Cherokee is available with either a four or a six and three potential drive layouts: front-wheel-drive, a light-duty Active Drive I AWD system similar to what's available in other crossovers – and Jeep's unique Active Drive II system, which is a notch above what's available in other crossovers.
A real plus is that you can mix-match the engines and drive types. Both the four and the six are available with either of available Active Drive layouts as well as FWD.
However, the Trailhawk model comes only with the Active Drive II system and the base Sport comes only with the four cylinder engine. If you want the V6, you have to step up to the Altitude or Latitude (or Trailhawk) trims.
The standard "Tigershark" four displaces 2.4 liters and makes 184 hp and 171 ft.-lbs. of torque.
It is paired with a nine-speed automatic and your choice of front-wheel-drive, Active Drive I or Active Drive II.
The Active Drive I system automatically routs power to the wheels with the most traction. It operates in FWD most of the time,but the split can vary as much as 90 percent depending on which wheels have the most (and least) traction.   
The Active Drive II system features a two-speed power transfer unit that functions much like the two-speed transfer case in a truck-type four-wheel-drive system. This is why Jeep refers to the system as 4WD rather than AWD.
It's not bogus.
The Active Drive II system can be locked by the driver in 4-Low mode, which provides a 2.92 gear reduction for low-speed slogging and pulling. Crawl ratios vary depending on the engine (56:1 with the four and 47.8:1 with the V6) but regardless, the system's got more guts than anything short of a truck-type 4WD set-up with a two-speed transfer case.
The Active Drive I system features driver-selectable programming via a rotary knob on the center console for Snow, Sand/Mud as well as Sport and Automatic. This is a cut above, capability-wise. Sport – and Snow – modes for the transmission (and other calibrations) are fairly common in crossovers and cars generally. But the Cherokee's Sand/Mud mode is a function not many (if any) others offer.
The Active Drive II system adds a Rock (crawl) mode and if you buy the Trailhawk, you'll also get Active Drive Lock (a locking rear differential) and a bevy of heavy-duty/off-road upgrades such as underbody skid plates, tow hooks and additional ground clearance (8.6 inches, total).
You can expect to get to 60 in about 8 seconds with the 2.4 engine and FWD, a decent time for a vehicle of this type. Fuel economy  with this combo is 22 city/31 highway – also decent for a vehicle of this type (and a huge improvement over the previous-generation Cherokee, which posted a Hummer-esque 15 city, 20 highway).
It should also be pointed out that the Cherokee's base engine matches – or beats – the performance (and matches the mileage) of the only-available engines in competitor crossovers like the Honda CR-V (2.4 liters, 185 hp, 23 city/31 highway and 9.5 seconds to 60) and the Toyota RAV4 (2.5 liters, 176 hp, 24 city/31 highway and 9.3 seconds to 60).
The base-engined Cherokee's also much stronger than the base engined Ford Escape (2.5 liters, 168 hp) and stronger still than the Escape with its optional 1.6 liter turbo engine (178 hp). To get more-than-Cherokee hp in the Ford, you have to jump two engines up the ladder, to the Escape's top-of-the-line 2.0 turbo four . . . at which point you're also looking at much more coin than Jeep charges for the base Cherokee.
One of the few current cross-shops that comes with a stronger standard engine is the Hyundai Sante Fe Sport (2.4 liters, 190 hp) and that just barely. The Sante Fe Sport's base price – $24,950 – also happens to be $1,555 higher than the Jeep's base price.
None of the Jeep's rivals offer – let alone come standard with – a nine-speed gearbox, either.
The Cherokee's trump card, though, is its optionally available 3.2 liter, 271 hp V6. Very few vehicles in this segment offer more than a four (sometimes turbo'd, sometimes not) chiefly because there is incredible pressure emanating from Washington to get every single new vehicle's average fuel economy number into the mid-30s. It is hard for a six to make that cut. That's why they're going away – at least, as mass-market powerplants.
But thanks to the Jeep's advantageous nine-speed gearing the V6's gas mileage is also decent: 21 city, 29 highway with FWD and 21 city/28 with Active Drive I. That's almost as good as the 2.4 liter engine's mileage.
The V6 Cherokee's numbers are also much better than those posted by larger, V6 powered crossover SUVs like the Chevy Equinox (16 city, 23 highway with AWD).
It's quick, too. All out, it can get to 60 in about 6.8 seconds.
The Jeep's max tow rating of 4,500 lbs. is much stouter than the typical 1,500-3,500 pound max that's typical in this segment.
ON THE ROAD
There is ample power – and performance – with either engine. One of the substantive appeals of this Jeep vs. models like the CR-V and RAV4 and even the Ford Escape (with its standard engine) is that they are under-engined and several of them don't even offer an upgrade engine to deal with the power/performance deficit.
In the Jeep, the available six ups the ante. But you don't have a losing hand if you stick with the four.
The nine-speed automatic is an interesting item. Why nine speeds? For the same reason semi trucks have that many (and more) forward speeds: Leverage. To accelerate the vehicle without winding out the engine – and to cut down engine RPM to the lowest level feasible once you're up to cruising speed.
In order to have a really deep top gear overdrive (eight and ninth in this case) without a bog/soft spot in between that top gear and the next lowest gear, you need a gradual series of "steps" down – and up. That's why, in this case, the transmission has another three gears in between fifth and top gear ninth.
Usually, the transmission behaves like a normal five or six speed automatic. The upshifts from fifth through ninth are so closely spaced as to be almost imperceptible. And the computer exercises absolute control – even when the gear lever is in manual mode. You can move the shift lever over to the left and tap it down or up – and the dashboard indicator will change from 9th to 8th or from 7th to 9th – but the computer will shift on its schedule and is deaf to your inputs. It will allow some manual control of up or downshifts from first through fifth, but the computer is The Decider here, too.
Sometimes, though, there is some Shift Weirdness.
You're trundling along in ninth and floor the accelerator to pass a dawdler. It is a long way from ninth to passing gear – which is fifth or fourth at the least. It takes a moment longer to drop from 9th to 5th or 4th than it does from 6th to 4th (as with a conventional six-speed box). So, there is sometimes a slight but significant pause before the onrush of acceleration.
And when going downhill, the transmission sometimes jumps up a couple (or three) gears, which makes the Jeep feel as though it is surging forward even though you're not touching the gas pedal.
Remember: This transmission is designed primarily for economy, not performance.
It's the price we pay to get our hands on that V6.
Without the efficiency edge conferred by the nine-speed, it's not likely it would be in the lineup at all.
The Cherokee feels big and heavy and reassuring solid. Which it is. Though nominally a compact, a 4WD Cherokee V6 weighs just over 4,100 lbs.
But all this unsprung mass is very effectively sorted by the suspension. You also enjoy that pleasantly authoritative, commanding view of the road that comes with being higher off the ground than surrounding traffic.
One deficit is the Jeep's wide (37 foot) turning circle. You don't notice this until you attempt a tight U turn. And then you do. This is one of the few functional compromises that attend the Jeep's greater-than-others capabilities.
It goes with the territory.
AT THE CURB
The Cherokee's front end is concept car radical. Cat's-eye slits for eyes – and a toothy grille. It looks radical in the rearview.
Jeep did not carry this stylistic daring beyond the nose clip, however. The Cherokee's flanks and tail are conventionally crossover. Nothing unattractive – just a little ordinary and something of a letdown after viewing the Jeep from head on.
Size-wise, the Cherokee, at 182 inches long overall, splits the difference between the true compacts in this segment like the Escape and CR-V (178.1 and 178.3 inches long overall, respectively) and mid-sized models like the Chevy Equinox (187.8 inches long overall).
It is also wider than all of these rivals – 73.2 inches vs. 71.6 for the CR-V, 72.6 for the RAV4, 72.4 for the Escape and 72.5 for the Equinox – and this gives it visual hunkiness the others (especially the Escape and CR-V) lack.
Legroom in both rows is pretty good – 41.1 inches up front and 40.3 in the second row. Pretty balanced might be a better way to put it. The Escape has more legroom up front (43.1 inches) but at the cost of a much tighter squeeze in the second row (36.8 inches).
Same goes for the RAV: 42.6 inches up front – but 37.2 in the second row.
Interestingly, the Jeep's interior is about as spacious (passenger room-wise) as the physically larger (mid-sized) Chevy Equinox's. Though the Equinox is almost half a foot longer, it only has 41.2 inches of legroom up front and 39.9 in the second row. However, it has 31.5 cubic feet of cargo space behind its second row – and this brings us to the Cherokee's sole objective packaging deficit relative to its rivals:
A shrunken trunk.
Technically, of course, it's not a trunk. Crossovers don't have trunks. They have cargo areas. And the Cherokee's is smaller-than-average: 24.8 cubic feet with the second row up and 54.9 cubes maximum, with the second row folded flat. The much smaller overall CR-V has 37.2 cubes behind its second row – and 70.9 cubes total. The RAV4? 38.4 cubes behind its second row – and 73.4 if you fold them down. And the Ford Escape? 34.3 cubes behind the second row and 68.1 with them folded.
Remember: All three of these models are smaller overall – yet they have significantly more cargo carrying room.
Still, the Jeep is a crossover, which means the space it has is more usable than a conventional car's trunk. Drop the second row and you have room enough for lots of stuff. You just have to drop the second row to use that room.
Jeep does provide some additional storage space, though. It's under the seats. The bottoms pull up – and beneath them, you'll find a pretty good-sized (and out of sight) storage cubby. More cars ought to have this feature – but few do.
THE REST
Unusual standard equipment includes an SD card reader, in addition to a USB port.
You can also order useful additional equipment such as heated windshield wipers (part of the Cold Weather package, which also includes heated front seats) a two-piece or panorama glass sunroof, and a perpendicular as well as parallel-parking assistant.
Trailhawk models come with a M/S-rated 17 inch wheel and tires package, tow hooks and underbody skid plates – in addition to the enhancements for the Active Drive II system previously described.
A new addition to the roster is a collision mitigation system that can be ordered with Latitude and Limited trims. It will brake the vehicle automatically if you don't react to a potential wreck situation in time.
Lane Departure Warning and Adaptive Cruise Control are also available.
THE BOTTOM LINE
Here's a crossover with some fuzz on its nuts!
If you like what you've found here, please consider supporting EPautos. (Latest radio guest appearance can be heard here.)
We depend on you to keep the wheels turning!
Our donate button is here.
 If you prefer not to use PayPal, our mailing address is:
EPautos
721 Hummingbird Lane SE
Copper Hill, VA 24079
PS: EPautos stickers are free to those who send in $20 or more to support the site.