It's amazing they haven't outlawed the Wrangler.
"They" being the dumbing-everything-down busybodies in DC who operate on the principle that most people are too stupid to deal with any situation on their own and therefore must be protected (for their own good, naturally) against the possible repercussions of any low-IQ move by anyone.
Of course, most people aren't in need of such condescending coddling. But the low-IQ moves of a few people – such as driving an off-road-intended 4×4 at 90 MPH on road on a 90 degree day on bald and under-inflated tires (with the predictable consequences) give them the excuse to micromanage all of us – and ruin everyone's fun.
The Wrangler has somehow escaped the noose.
It is built like they used to make 'em: Body-on-frame, solid axles front and rear. There are no compromises imposed on its off-road capabilities in order to idiot-proof the beast for on-road use by people who expect a 4×4 to corner like a Corvette.
It is a vehicle for people who understand what an off-road vehicle is for.
And also, what it is not for.
If you understand the difference, you'll appreciate the Wrangler. And if you don't understand, buy something else.
Please.
WHAT IT IS 
The Wrangler is an icon – one of the earliest mass-market 4x4s, its roots extending all the way back to the WWII-era Willys Jeep. Though updated through the years, the 2012 model is obvious kin to Jeeps of 40, 50 even 60 years ago. It is also a time machine – its hard-core mechanical essence having survived the years in addition to its familiar exterior cosmetics. The old Ford Bronco is long gone; so also the International Scout. The Land Rover 110 and Defender 90 are memories.
But the Wrangler soldiers on.
It's available in two and four door versions, with hard or soft-tops. All versions are 4×4. Real 4×4, with a two-speed transfer case and Low range gearing.
Base price for a two-door Sport is $22,045. An Unlimited Rubicon starts at $33,570.
There really isn't any direct competition, price-wise or otherwise. The Toyota FJ Cruiser is vaguely similar in theme – but it starts at $26,116 and it's much more street-minded than the Wrangler. The closest thing is probably a Land Rover Defender 90 – but of course, they don't sell those here anymore.
WHAT'S NEW FOR 2012
A heart transplant. The Wrangler now comes standard – all trims – with Chrysler's stout 3.6 liter "Pentastar" V-6 and 285 hp. A five-speed automatic (replacing the old four-speed unit) is also available with the new engine.
A six-speed manual remains standard equipment.
WHAT'S GOOD
Old school. No BS. A 4×4, not an "SUV."
Lawnmower-tight low-speed turning radius in the short-wheelbase two-door.
Massive power infusion from new 3.6 liter V-6 (83 hp more than previous V-6).
WHAT'S NOT SO GOOD
Arguably too much power – and not enough efficiency. A diesel version would be welcome.
Gets pricey quickly. Jeeps are no longer cheap!
UNDER THE HOOD
The '12 Wrangler – all trims – comes standard with a 285 hp 3.6 liter V-6, the same "Pentastar" engine used in other Chrysler-Jeep models such as the Grand Cherokee.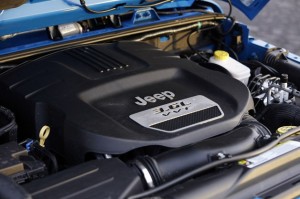 It's 83 hp stronger than the previous V-6 – a roughly 30 percent improvement in power output. And the added power doesn't come at the cost of MPGs. In fact, the new 3.6 engine returns better mileage (17 city, 21 highway for the two-door) than last year's model with 83 hp less (15 city, 19 highway).
Acceleration is also much improved. With the standard six-speed manual, the Wrangler two-door can get to 60 in about 7 seconds flat – almost three full seconds quicker than last year's Wrangler.
A new five-speed automatic is optional – replacing the previous four-speed automatic.
All Wranglers come with 4WD (shift-on-the-fly manual engagement) but Rubicon versions get a beefier transfer case with different (lower) gearing for severe off-roading. In addition, this version of the Wrangler is fitted with very aggressive 32-inch M/S-rated knobbies on 17 inch wheels, heavy-duty Dana axles, locking front and rear differentials and a front sway bar that disconnects to allow greater suspension articulation as when rock crawling.
All models feature a snorkel-style air box, with the intake mounted as high up as possible and tucked underneath a deflector to keep water out.
ON THE ROAD 
Most new cars are metronomic – they drive almost effortlessly. That is, they demand very  little of the person behind the wheel in terms of skill or even attentiveness. So long as it's pointed in the general direction, it will usually end up there – and if the driver makes a mistake in a typical late model car, the car is usually so inherently stable that unless there's outright deliberate recklessness involved, it's pretty hard to get into serious trouble.
The Wrangler is not like this. It isn't metronomic. It does require you pay attention. And have respect for what it is.
And for what it isn't.
A short wheelbase (95.4 inches for the two-door, which is about 7 inches shorter than a current-year economy compact sedan's – and almost 11 inches less than the Toyota FJ Cruiser's wheelbase of 105.9 inches) helps make the Wrangler highly maneuverable at low speeds. It has a turning radius as tight as a riding lawnmower's. Off-road, when you're negotiating narrow trails or making fine adjustments to your position in order to not hit something – or not tumble over the precipice of something – this is just what you want.
The Wrangler is a billy goat – nimble and tenacious.
It is also stubby and narrow – 1.5 inches more svelte in the hips than an FJ Cruiser and more than two feet shorter, nose to tail. This likewise gives the Wrangler more room to work with off-road.
So, what we have here is not unlike a human powerlifter – a focused, no-compromises machine built to do one thing extremely well. The downside, as with the human powerflifter, is that being so focused on one thing means not being as good at some other things (like, say, running a marathon for the human powerlifter).
For the Jeep, it means remembering what you're driving when you're driving on paved roads. It is not unstable or tip-prone in the way that an older Jeep CJ was, but it should be driven with prudence in corners and not too fast on the straights – even though the powerful V-6 has more than enough guts to overcome the two-ton curb weight and wind resistance of the near-vertical windshield/box profile with deceptive ease. The short wheelbase/high center of gravity and a suspension/steering system are optimized for fire trails and low-speed crawling and not set up to deal with high-speed cornering or sudden course corrections at 80-plus.
People who know 4x4s know this, of course. And so drive with respect for the Wrangler's different abilities.
And – so far – the rougher nature of the Wrangler has kept away the know-nothing "SUV" types – the type who would expect an off-road 4×4 to corner like a sports car or even a regular car and then get mad (and probably sue) when they discovered (the hard way) that it didn't.
The four-door Wrangler has a larger footprint: 116 inch wheelbase and 173.4 inches long overall vs. 152.8 for the two-door. This makes it slightly less adroit off-road – if you're off-roading in dense woods or similar – but also makes it a bit less darty-feeling on-road.
In either version, you sit bolt upright and high off the ground. You'll hear the wind outside – and also the bugs splatting hard against the flat glass in front of you. It's as different and homey and appealing in its own way as a toasty if a little bit smoky wood stove in a camping cabin on a cold winter night.
Not everyone will get this, of course. But if you're someone who does get it, you'll love this thing.
AT THE CURB
There's no mistaking a Wrangler for any other vehicle. The iconic shape is one of the draws. It marks you as someone who knows what he wants – and doesn't want what most other people do.
Most people want door air bags. The Wrangler has removable doors. Available with plastic windows.
Most people want a completely fitted out, tightly insulated interior. The Wrangler has exposed metal – and a fitted roll bar Velcro-wrapped with padding.
Sure, you can order amenities such as heated seats, climate control and GPS. But this no more dilutes the essential character of the Wrangler than putting an Ultimate Fighter in a two-grand suit.
The beast is still the beast.
The sectional hard top is a big improvement over the old one-piece deal – which almost required a pulley-lift system to remove and once off – what do you do with the thing? The current model's removable hard top still comes off all the way, too – but you can also remove just the panels over the driver and front-seat passenger, creating a T-top effect. Or, go with the cloth soft-top. It has its pros and cons. On the pro side, it's easier to handle because it's lighter and you can fold it/roll it/stuff it into a corner once off. But it's no easy thing to take off in the first place – or put back on. The hard top, being made of rigid composite panels, is easier to get into place – but it's heavier and more awkward to manipulate, especially if you're just one person or not a strong young man.
I recommend you get the salesman to walk you through the removal/installation process of both top types before you decide which to buy. I mean, have him actually show you how it's done – not just describe how it's done.
And if you're new to Jeeps – take an extended test drive. Again, this is not a vehicle for everyone. It might not be for you.
THE REST
The two-door model is the most personal – and least practical. The back seats are there. That's about the most you can say about them. You literally have to crawl over and around to get back there – consider it a prelude to your off-roading adventure. And because this is a real-deal 4×4 and not an SUV (much less a "crossover," god help us) there is no theater-style seating. The floor is close – and so will your knees be. If I bought the two-door, I'd just put the back seats in the garage. Less weight and now there's a good-sized cargo area (61.2 cubic feet vs. a puny 17.2). And if you're going to be using the Jeep properly – for offroading –  the inside will get pretty dirty. I'd recommend upgrading the stock floor mats to something like a WeatherTech to protect your floors."  .
Jeep gives you a locking center console, in addition to the locking glovebox – good to have, especially if you've got a Wrangler with the soft top or plastic windows. This "easy access" is another attribute that sets the Wrangler apart from anything new or even remotely new that's not another Jeep. Be aware that even the engine compartment can be opened, '70s-style, from the outside. Just pull-off the rubber tie-downs on the top of the hood and then pop the catch.
There are also old-school push-button door pulls – and an exposed gas cap!
The one thing I'll carp about is no diesel engine on the options list. Diesels, which produce tremendous low-RPM torque, are the ideal powerplants for off-road 4x4s. They're also extremely durable and most important of all these days, far more fuel-efficient than a gas burner. The new 3.6 V-6 is admirable for producing 83 more hp than the old 3.8 V-6 while returning slightly better fuel economy, but the fact is that 17 city, 21 highway still sucks in a world of $4 a gallon gas. As impressive as the 283 hp Wrangler is, it'd be even more appealing with a 350 lbs.-ft turbo-diesel under its hood. A turbodiesel capable of 30 MPG on the road.
THE BOTTOM LINE
Very few vehicles make you feel so much a part of the driving experience as this one does.
It has a pulse – and it will raise yours.
Throw it in the Woods?