If  someone attacks you, it is unquestioned  that you have a right to defend yourself. If, in the process, the attacker is injured – even killed – it's fundamentally on him.
Why does this maxim not translate to our interactions with cops?
Why is it that they may attack us – and even if it is lawless attack, we are expected – required – to supinely endure it? If we are killed by the cop, the presumption is reversed – in the favor of the cop. Even in obvious cases of grotesquely disproportionate use of force, it is rare for a cop to be held accountable in the way any of us would be, having done exactly the same thing.
It is very odd.
In the same way that it's odd how the obviously wrong act of taking what is not rightfully ours – theft – becomes acceptable rather than despicable when it is called something else (e.g., "taxes") and done by proxies, on our behalf.
But, let's get back to cops.
There is a great deal wrong with things as they are. People are beginning to realize this and it has made them uneasy.
There a number of things that could be done to ease this very reasonable fear. The most fundamental would be to throw this hateful concept of law enforcement in the woods – and replace it with the honest work of keeping the peace. By itself, this one reform would do more to end the epidemic of police abuse than all the marchers and sit-ins and protests put together. Because the pretext for so much of the abuses we've seen would disappear. Disagreements between people – so long as they remained peaceful – could be haggled and hashed out peacefully, through civil courts if need be. Most people already do it this way. Few resort to violence.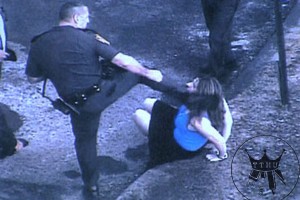 Those who do could be dealt with by peace keepers.
Law enforcers would become an irrelevance.
But it will take some time to get to that point because not enough people to tip the balance yet comprehend (or simply do not agree with) the notion of no harm, no crime – and its axiomatic conclusion:
No punishment.
But most people do grok self-defense. The right to ward off blows and – if need be – to hit back.
It is a concept that must be applied to our interactions with law enforcement.
For their sake as well as ours.
For the same reason we all understand it's not only ok – but sometimes, necessary – to fight back against an ordinary bully. To take that right away is to give license to bullies. To encourage them. Which inevitably means, we'll get more rather than less abuse – since there is no longer any meaningful check on abuse.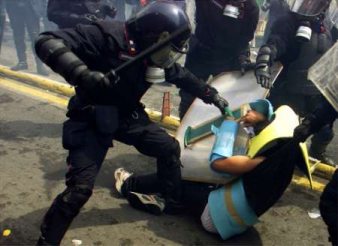 This is how we got to where things are today.
Cops run amok because they can.
Since 911 especially, their persons have been deified. Like medieval princes, we dare not touch them – even if they touch us first. Indeed, to meet their gaze has become sufficient provocation for an ultra-violent lesson in who's the boss.
Enough, already.
It is one thing – an understandable thing, a justified thing – for a cop (like any other human being) to defend himself against an assault. It is another thing, however, for a cop to assault with impunity – and expect his victims to "stop resisting" as the blows rain down.
What does all this mean in plain English?
It means our persons are as just as sacred to us as theirs are to them. And that we have a right to resist, if it becomes necessary. To preserve ourselves from unjustified harm.
To act in self-defense.
Recently a man died who might have lived – had his wife been able to get him to the hospital in time. Instead, a law enforcer pulled the couple over because the woman was speeding. Despite their frantic please – and the obvious distress of the woman's husband – the law enforcer refused to let them proceed, much less escort them to the hospital. Instead he used the threat of the gun on his hip and the arbitrary, mindless authority he possessed to force them to await death by the side of the road. Which came. The man died, having suffered a severe – and untreated in time, thanks to this cop – asthma attack.
These people had every human right to ignore this law enforcer and proceed to the hospital. Had the enforcer assaulted them in order to prevent their getting to the hospital, would it not be a clear case of self defense? It certainly would be regarded as such by most people if, instead of a law enforcer, the couple had been "detained" by some random stranger.
Why do random strangers in special costumes get to wield life and death power over us? And why are we told we must defer to them, even if it does cost our lives?
These are questions long overdue for answers.
If you value independent media, please support independent media. We depend on you to keep the wheels turning!
Our donate button is here.
 If you prefer to avoid PayPal, our mailing address is:
EPautos
721 Hummingbird Lane SE
Copper Hill, VA 24079
PS: EPautos stickers are free to those who sign up for a $5 monthly recurring donation to support EPautos, or for a one-time donation of $10 or more. (Please be sure to tell us you want a sticker – and also, provid