Henry Ford gets the credit for putting America on wheels via the Model T – which was not only the first mass-produced car but also the first affordable car, which is what made its mass production possible.
Ford's other achievement, however, wasn't a car. It was an engine. The first mass-produced and – like the T – affordable V8 engine. Chuck Berry sang about it in Maybellene:
I was motorvatin' over the hill
I saw Maybellene in a Coupe de Ville
A Cadillac a-rollin' on the open road
Nothing outrun my V8 Ford
The Ford flathead V8 came out in 1932 and – just like the T – it changed everything. It was light and inexpensive and easy to manufacture. So it could be sold inexpensively – and in quantity.
Previously – just as cars had once been for the affluent-only – V8 engines were ornate, complex and expensive. They were indulgences of the affluent – not unlike an electric car today.
The flathead Ford V8 upended that. For the next 60-plus years, the average American could afford to drive not just a car, but a car with a V8.
A big car.
These, too, became commonplace – and uniquely American. In no other country could you see fleets of big cars being driven by ordinary people. It was extraordinary.
V8s made that feasible.
And the V8s grew to be even bigger.
By the early '70s, it was common for sedans (and station wagons) to have engines in the seven liter range. These were middle-of-the-road family sedans and wagons. Not high-end models.
Everyone coulda had a V8 – or just about.
These were six passenger full-size (and rear-wheel-drive) cars and wagons – the wagons often being nine passenger-capable. The roads abounded with them. They were the analogs – from the '50s through the '60s and into the '70s – of a Camry or Accord.   
Then along came Uncle – and once again, everything changed.
Most people now drive cars like Camrys or Accord – if they are lucky. Mid-sized cars with four and – maybe, occasionally – a six cylinder engine.
Almost always front-wheel-drive.
They are very nice cars, but diminished in a tangible way – at least for those who can still recall a different time. 
Today, V8s are – mostly – for the rich only. Or at least, the very comfortably affluent. There is only one new sedan priced under $40,000 that comes with a V8 – the  2017 Dodge Charger R/T, which stickers for $34,895 to start.
It is a great car – particularly because of its stout 5.7 liter Hemi V8. But whip out your inflation calculator. That $35,000 (I rounded) is equivalent to about $5,500 in 1970 money (see here). And in 1970, you could buy a full-size (the Charger is mid-size) Chevy Impala (here) with a 7.4 liter 454 V8 for just over $3,200 – which is the equivalent in today's dollars of about $20,500.
This is just a couple of thousand dollars less than the current price of a brand-new four-cylinder (and FWD) Camry ($23,070).
Large, rear-drive cars are all-but-extinct. Unless you can afford a Benz or a BMW or  Lexus or Infiniti or Porsche. These brands still sell rear-drive cars and cars with V8s. But – notice – they are all luxury brand cars. They sell small numbers – at high cost.
It is because Uncle.
He didn't outlaw big cars – or V8s. Not exactly. He just made them expensive so that – once again – they are for the rich only only.
Cleverly, he did this indirectly – so he would not get the blame – by fining the car companies for making them. These fines – "gas guzzler" taxes – are folded into the price of not just the large/V8-powered cars (the ones that remain) but also drive up the cost of other cars – making it twice as tough to make the big ones with big engines.
This is why they are rare – and becoming more so- as they shuffle down the road to extinction.
The V8 Charger probably will soon join their ranks, incidentally. Unless Trump remembers why he was elected, stops bombing foreigners and instead rescinds the latest federal fuel economy fatwa – the one decreeing that all new cars must average at least 54.5 MPG by model year 2025 (seven years away, not that far in the future) it will no longer be possible for FiatChrysler to sell cars like the Charger – and its siblings, the Challenger coupe and the 300 sedan.
The only way they'll get 54.5 MPG is by running a chain from underneath the radiator support to the bumper of a couple of Teslas serving as electric Clydesdales. They won't get far, but they won't burn much fuel.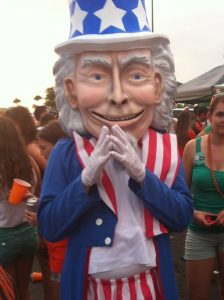 The other option is for FiatChrysler to just fold the "gas guzzler" taxes into the price of the cars. This is what high-end brands like BMW and Mercedes do. But then, Dodge and Chrysler are not high-end brands. It is doubtful many people will pay $40,000-plus for a Dodge – and even if they wanted to, how many can afford to?
Henry Ford is often vilified but the man not only made mechanized personal transportation possible for the average man – he made it possible for the average man to live large.
Uncle's agenda is rather different.
If you like what you've found here, please consider supporting EPautos.
We depend on you to keep the wheels turning! 
Our donate button is here.
 If you prefer not to use PayPal, our mailing address is:
EPautos
721 Hummingbird Lane SE
Copper Hill, VA 24079
PS: EPautos stickers are free to those who send in $20 or more to support the site.