If the Bugatti Veyron "transitioned" into a truck, this might be the result.
Instead of 1,000 horsepower, almost 1,000 ft. lbs. of torque. Instead of a 200-plus MPH top speed, the ability to drag around more than 20,000 pounds of trailer.
They both have aluminum bodies – but the Ford weighs twice as much – and is three times as tall.
Either way, it's impressive.
WHAT IT IS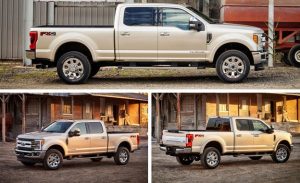 An even bigger – and much beefier – version of Ford's full-size pick-up truck. The look is similar, but under the new aluminum skin, there's a sturdier frame and suspension built for real work while under the hood, there's one of two huge V8s  – gas or diesel – vs. the turbo V6 that's the top engine in the lighter duty F-150.
Hence F250 Super Duty.
It is available in regular cab, extended cab and crew cab configurations, with either a 6.8 foot or 8.2 foot bed and with – or without – four-wheel-drive.
Prices start at $32,535 for a base trim XL with the standard 6.2 liter gas V8 and 2WD.
A top-of-the-line Platinum trim with the 6.2 gas V8, 4WD and 8.2 foot bed stickers for $62,310. There are also XLT, Lariat and King Ranch versions.
The 925 ft.-lbs. of torque 6.7 liter PowerStroke diesel can be added to any trim for an additional $8,795.
WHAT'S NEW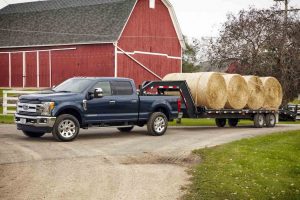 The F250 gets a wheels-up redesign for 2017, including an all-aluminum body – unique among trucks in this class, which still have steel bodies.
WHAT'S GOOD
Tows the most:  a mighty 21,000 lbs. vs. 18,100 lbs. for the Chevy Silverado 2500 HD and 17,980 lbs. for the Ram 2500.
Strongest engines – gas or diesel.
Aluminum body cuts curb weight by several hundred pounds; rides smoother than heavier Chevy and Ram.
WHAT'S NOT SO GOOD
Dimensions – length and height especially – are almost cartoonishly huge.
Aluminum body is more difficult/expensive to repair when damaged than steel.
Pricier than rivals.
UNDER THE HOOD
2500 and up trucks may be the last redoubt of the standard V8.
All the current 1500s – including the Ford F150 – come standard with sixes and most of the F-150 's optionally available engines are sixes, too. You can still get a V8 – but it's a small (5.0 liter) and mid-rank V8.
The top F150 engine is a twin-turbo V6.
For those who hew to the view that there is no replacement for displacement, there's the F250's V8-only engine lineup.
Standard equipment is  a 6.2 liter gas V8 that makes a class-best 385 hp and 430 ft.-lbs. of torque – stronger than either the Chevy Silverado 2500 HD's standard 6.0 liter V8 (360 hp and 380 ft.-lbs. of torque) and the Ram 2500's standard 5.7 liter V8 (383 hp, 400 ft.-lbs. of torque.)
The Ram 2500 can, however, be ordered with a larger – and stronger – 6.4 liter V8 that makes 410 hp and 429 ft.-lbs. of torque. The Ram is the only one of the three 2500 Series trucks that's available with a second gas engine choice. Which makes it an economical alternative to the Ford and Chevy's optional diesel engines.
These are immensely powerful – 440 hp and a boggling 925 ft. lbs. of torque (the Chevy's optional 6.6 liter Duramax diesel makes slightly more hp – 445 – and a bit less torque – 910 ft.-lbs; the Ram 2500;s 6.7 liter Cummins turbo-diesel makes 385 hp and 900 ft.-lbs. of torque) but they are also immensely expensive. Selecting the F250's optional PowerStroke diesel V8 adds $8,795 to the sticker price. The Chevy's Duramax costs even more – $9,005 on top of the price of the truck itself.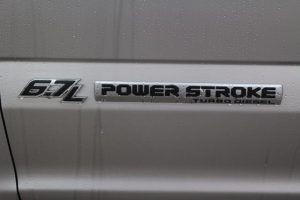 Or, you could upgrade to the 6.4 liter gas V8 in the Ram 2500 for just $500. And you can get this engine with a manual transmission, too.
All the others are automatic-only.
But if you need ultimate towing capability, there's no substitute for the diesel.
For the Ford diesel.
It is rated to pull 21,000 lbs. – vs. 17,890 for the Cummins-equipped Ram 2500 and 18,100 for the Duramax-equipped Chevy.
It's not even close.
The Ford's max payload capacity – the load you can carry in the bed – is also top-drawer: 4,200 lbs. vs. a startlingly puny-in-comparison  3,534 lbs. for the Chevy 2500 HD.
Another item in the Ford's favor – whether you go with the gas or the diesel V8 – is that you get the same heavy-duty six-speed automatic. The one built to handle the diesel's 925 ft.-lbs. of torque. Paired with the gas engine (which makes not quite half the torque the diesel belts out) this transmission ought to live forever.
The Chevy 2500 offers the outstanding Allison 1000 six-speed automatic with the Duramax diesel, but only with the diesel (and only if you pony up the additional $9k). The gas V8 gets a lesser-duty six-speed automatic that's a perfectly good box – but not overbuilt and indestructible, as the Ford's diesel-duty automatic is.
Fuel efficiency is not exactly the right term here – and EPA doesn't rate 2500-and-up-trucks, so there are no official stats.
During a week-long test drive in mixed-use (city/highway) driving, I averaged 15.2 MPG in a Crew Cab 4×4 with the honky-tonky diesel V8.
Almost exactly the same as a Bugatti Veyron.
ON THE ROAD
Have you ever seen the bridge of one of those super tankers? The gigantic ship is controlled by a toggle. Apparently, out on the open ocean, these things are fairly manageable.
And so is the F250.
Once you climb on board (literally) and get her pointed in the direction you intend to go, it is a pretty road-friendly ride. No toggle, but minor course adjustments via the steering wheel result in similarly effortless directional control and – notwithstanding the heavier gauge frame, the beefier suspension vs. the F-150 – it doesn't feel all bound up, stiff and over-beefy. The chief obvious difference is the altitude of the seats – but otherwise, it's no more intimidating to pilot than the F-150 and just as comfortable to spend time in.
Some reasons why: Though it has a solid axle and leaf spring suspension out back, there are just three leafs per side vs. the usual bundle of four or five you'd expect to find underneath something so super duty. The usual way to increase the heavy-duty-ness of a truck being to add rather than subtract leafs. These three leafs most definitely handle the load, but not as rigidly – so the truck rides better. This is particularly noticeable on gravel roads washboarded by rain and erosion.
Axle hop is minimal.
Another reason why: The aluminum body. Ford shucked the steel shell to squeeze out a few more miles-per-gallon, but an additional benefit is the shedding of several hundred pounds – which means less weight to slosh around and need hard-riding suspension bits and pieces to keep it from sloshing around.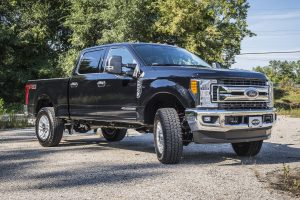 But the size of the thing is daunting.
A regular cab/long bed F250 is 231.8 inches long overall – just shy of twenty feet. It stands 81.1 inches high – almost seven feet off the ground. All of the 2500 series trucks are behemoths, but the Ford is a bit more behemothian than the Chevy and the Ram. For example, the Silverado 2500 in the same configuration – regular cab, long bed – is 224.4 inches long overall and 77.8 inches tall.
A crew cab F250 extends to 266.2 inches – more than twenty-two feet long overall.
Plan ahead for turns.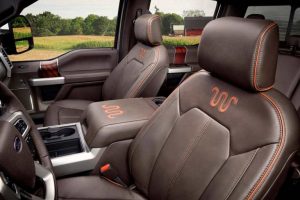 As huge as this thing is, it's startling how quiet this thing is. Even with the nearly 1,000 hp diesel under that blunderbuss of a hood. As you walk up to the truck, you see those drainpipe-sized exhaust pipes – which appear to be at least five inches in diameter, exiting in twin tips with curious little baffles cut into them. You expect to hear Kenworth-esque rumblings and rattlings – like an old coffee can with a bunch of loose bolts in it being shaken.
But you hear almost nothing.
How they got almost 1,000 ft.-lbs. of diesel V8 to make less apparent noise – inside the cabin – is either a function of engineering genius or the liberal use of lots of sound baffling cocooning the cabin.
Maybe it's those baffles. Regardless, it is startlingly quiet. Weirdly quiet – like an ocean-going tanker that glides by silently at 30 knots.
Even with the exhaust brake engaged (electric-automatic; just push the button on the top of the center stack and use the exhaust to slow the truck when descending grades) it's hard to tell there is a diesel under the hood – let alone one capable of almost four digit torque output.
It's quick, too.
Six thousand-plus pounds for the lighter versions and behemoth can still reach 60 in just over seven seconds. Which is Bugatti-esque for something that weighs two thousand pounds more than a Bugatti. It'd be interesting to find out how quick the Veyron is with a 2,000 lbs. trailer hanging off its rear bumper.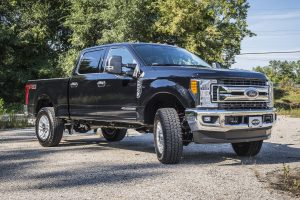 The standard fuel tank holds 34 gallons – which allows for non-stops just over 500 miles.
A Veyron – 7 MPG city 15 on the highway – can only go about 246 miles on the highway before it needs to pit.
A 48 gallon fuel tank is available optionally – bumping up the range to 600-plus highway miles.
That's nearly as good as a Prius hybrid!
AT THE CURB
The Bee Gees are responsible – for good or not – for the falsetto sound of '70s disco pop.
Ford is – for good or not – responsible for Codpiece Fever. Trucks disproportionately huge, even in relation to large men.
The Super Duty 2500/3500 were the first trucks to have Adam's apple high bed wells . . . the Adam's apple belonging to a six-foot-three man (me). They're not quite that high – but they are close to that high – and the result is that even a guy as tall as I am can just barely finger-touch the bottom of the F250's bed.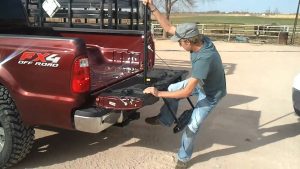 Or an F-150's
Which is why the Metamucil Pole.
Ford does not call it that, of course. But it fits.
First, you lower the tailgate – which "damped," so it goes down gradually rather than just flopping down with a clank.
Next, you push the button on the leading edge of the tailgate. Out pops the step ladder. Adjacent – to its left – the Metamucil Pole. It's a collapsible piece of 2×2 steel you grab hold of as you Old Man your way up into the bed. A young, limber guy can climb into the F-truck's bed like he can climb a tall fence out in the field. But young guys generally can't afford this truck. And the older guys who can need . . . the Metamucil Pole.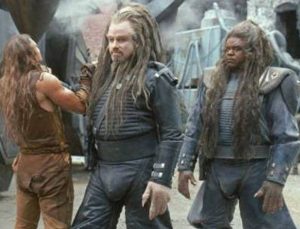 It is nice that Ford includes this, but it ought not to be necessary. The F250, the Chevy2500, the Ram 2500 – and the current crop of 1500s – they are all Codpiecian and suffer from these preposterously over-tall bed walls and Monster Truck ride height that make accessing the bed problematic for anyone who isn't proportional to the truck – which means anyone less than seven feet tall and built like Hulk Hogan used to be.
Because the bed is four feet across, you can haul stacks of 4×8 OSB or drywall without canting them at an angle – and that (plus the ability to haul them in mass quantity) is probably the chief advantage of a Behemoth-Sized truck.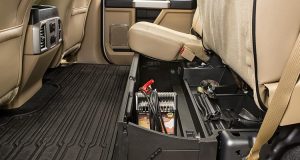 Front legroom (43.9 inches) is less than in the Chevy (45.3 inches) but more than in the Ram (41 inches). All are spacious, though. Legroom over 40 inches is largely about bragging rights than anything functionally meaningful – unless you are seven feet tall. Same goes for headroom and shoulder room – in all of them. There is plenty of room for five big guys in any of these crew cab 2500 trucks.
It doesn't come with tugs to aid in maneuvering it in close quarters, but you can get a 360 degree/seven camera system that helps avoid bumping into things. There is also an available Trailer Reverse Guidance and Blind Spot monitor that extends the length of a trailer as much as 33 feet long – to help you avoid backing into things.
Also available: Adaptive Cruise control, which maintains whatever speed you set – accelerating and decelerating the truck to match the ebb and flow of traffic –  even with a trailer hooked up. Adaptive cruise isn't a new technology, but the Ford is the first 2500 series truck to offer it and – currently – the only 2500 series pick-up that does.
You can order Cowboy Cadillac amenities such as a full-length panorama sunroof, heated and cooled seats, a heated steering wheel, 20 inch wheels and a premium 10-speaker Sony surround sound audio rig.
THE REST
Base XL/XLT trims ordered with 4WD get old-school manual locking hubs – a feature that's becoming as hard to find as a standard V8 in 1500 truck. The manual hubs take a bit more driver action to engage than automatic hubs, which only require the driver to rotate a knob – but they are inherently heavier-duty mechanical interfaces less likely to suffer electronic hiccups at some point down the road, post-warranty.
The standard (XL/XLT trims) touchscreen is a little small – 4.2 inches – but Ford's new Sync3 interface is a huge improvement over the previous MyTouch interface. Lariat and higher trims get a larger 8 inch touchscreen and an upgraded version of Sync.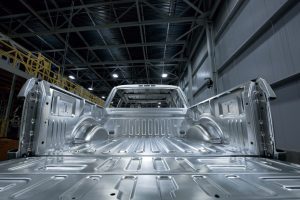 Ford touts the wonderfulness of the aluminum body – and it is, in some ways. If this thing were still made out of steel, it'd probably get single digit mileage and would ride rougher and handle more like a piece of heavy equipment than a jacked-up car.
But . . .
Aluminum when damaged is much more challenging – read, expensive – to repair. It requires dedicated work space at body shops (expensive) and welders who have higher-level skills (expensive) and this will likely result not only in higher Fix It bills when something gets bent or crumpled but also higher insurance premiums on account of that.
It will be interesting to see whether Chevy and FiatChrysler (Ram) follow suit – or stick with steel.
THE BOTTOM LINE
Maybe they should put a Veyron in the bed of each one they sell. Then you'd have your Caitlyn . . . and your Bruce, too!
If you like what you've found here, please consider supporting EPautos.
We depend on you to keep the wheels turning! 
Our donate button is here.
 If you prefer not to use PayPal, our mailing address is:
EPautos
721 Hummingbird Lane SE
Copper Hill, VA 24079
PS: EPautos stickers are free to those who send in $20 or more to support the site.