They've made it bigger on the outside – and the just-redesigned 2014 Toyota Highlander is more spacious inside than it used to be. It seats up to eight now vs. seven previously – and has more cargo capacity behind its third row.
But (there's always a "but") there's less total cargo capacity – and the second row is now a 60/40 split-bench deal. The previously available 40/20/40 second row with removable center section has been discontinued.
On the other hand, gas mileage is up – because the curb weight is down. And also because the old five-speed automatic that was paired with the optional V-6 has been replaced with a new six-speed box, standard now with both of the Highlander's two available engines.
Anything else?
Let's take a look and see…  .
WHAT IT IS
The Highlander is a large – almost full-size – crossover SUV that seats 7-8, depending on configuration. Like others of its type, it's built on a FWD-based layout – with AWD available.
It is not quite as large as full-size models like Mazda's CX-9, the Hyundai Sante FE or the Ford Explorer (and the even larger Ford Flex). But it is larger – and more spacious – than compact (and two-row-only) crossovers such as Chevy's Equinox or the Ford Escape.
It is also much more up to date than its closest-in-kind (and size and interior space) rival, the Honda Pilot – which has been pretty much treading water since its last major update back in 2009.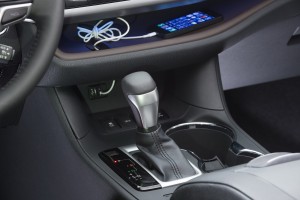 Base price for the 2014 Highlander LE with 2.7 liter engine and FWD is $29,215. You can upgrade to a V-6 equipped LE for $30,520.
A top-of-the-line Limited Platinum with the V-6, AWD and a bevy of luxury and electronic amenities – including heated second row captain's chairs and a panorama sunroof – carries an MSRP of $43,590.
WHAT'S NEW
The '14 Highlander gets a major makeover, including a new exterior and interior design. It creeps up to just-shy of full-sized on the outside – and offers more front and second row legroom than previously.
Both base and optional engines, however, carry over from 2013.
The revised exterior and interior are sportier-looking – less "SUV-esque" – than previously – and relative to its primary rival, the Honda Pilot – in part because it sits lower than the previous model and is about half-an-inch wider, too.
WHAT'S GOOD
Feels substantial, solid and secure – but isn't overwhelmingly huge.
Optional V-6 is much stronger than base four – yet exacts virtually no fuel efficiency penalty.
Several inches more front seat legroom than competitors offer.
Base price is lower than most rivals.
WHAT'S NOT SO GOOD
Standard 2.7 liter four is underpowered – yet gas mileage is virtually the same as that delivered by the optional V-6.
Total cargo capacity is down (83.7 cubes for the '14 vs. 95.4 for the '13 Highlander).
Back seat legroom is less than in several competitors; in some cases (e.g., Ford Flex, Mazda CX-9) a lot less.
Toyota's basic warranty coverage is still only three years/36,000 miles.
UNDER THE HOOD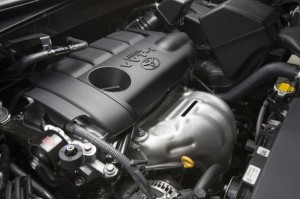 As before, the Highlander is available with either a 2.7 liter four cylinder or – optionally – a 3.5 liter V-6. The rated output of both engines  is the same as it was last year . . . well, virtually the same: The '14 version of the four generates a claimed 185 hp (vs. 187 last year) while the V-6 produces the same 270 hp as it did last year.
The big update is what's connected to the engines – or at least, to the V-6 engine. It is now paired with a six speed automatic, replacing the less efficient five-speed box that came with the six last year. (The four also comes standard with the six-speed automatic.)
As a result, gas mileage with the 3.5 liter engine rises to 19 city, 25 highway – vs. 18/24 previously.  Not a huge improvement – but an improvement, nonetheless.
The four's mileage, meanwhile, remains the same: 20 city, 25 highway. Given the horsepower (and performance) disparity, this is pretty poor:
The V-6/FWD Highlander gets to 60 in just over 7 seconds  – vs. 9-plus for the four-cylinder/FWD Highlander.
Also: The four-cylinder Highlander is sold only in FWD form. It's marginal as it is – and adding the weight of AWD would probably gimp the thing beyond the bounds of acceptability. It might also cause the four's EPA mileage stats to dip below the numbers posted by the V-6.
It should be noted – in the interests of full disclosure – that all the crossovers in this class (mid-sized and larger) are pretty piggy. The Ford Flex, for instance, rates 18 city, 25 highway (17/23 with AWD). The Hyundai Sante Fe the same OPEC-friendly18 city, 25 highway (though when ordered with AWD, the Hyundai does slightly better than the Ford: 18 city, 24 highway).
Mazda's CX-9 out-guzzles them all, 16 city, 22 highway with AWD.
These numbers are not much better – and in some cases, are actually worse than – the numbers posted by "traditional" (truck-derived, RWD-based) SUVs – including some powered by V-8 engines. A Dodge Durango equipped with a 5.7 liter Hemi, for instance, manages a not-half-bad (in comparison) 14 city, 23 highway – which is not that much of a BFD relative to any of the above V-6 (or even  four cylinder) powered (and car-based) crossovers under discussion. And the Hemi V-8 belts out 360 hp (nearly 100 hp more than the Toyota's V-6) and can pull 7,400 pounds – easily trouncing the 5,000-lb. max capability of the V-6 Highlander and others in this class, several of which can't pull as much as the Highlander can.
What's happened is that medium-large crossovers – which were originally conceived as a way to end-run the atrocious gas mileage of traditional, truck-based SUVs while still offering comparable interior spaciousness and versatility – have porked out to almost-SUV excesses. Even though the '14 Highlander weighs less than the previous generation Highlander – 4,134 lbs. now vs. 4,464 lbs. then – there's still a lot of beef to lug around. A traditional, truck-based SUV like the Durango is beefier still – but its bigger engines (especially its big V-8) have power to spare, so it doesn't need to work as hard to pull the weight. In a beefy crossover, smaller engines end up working harder to keep things moving – and hence, often suck down a startling volume of fuel.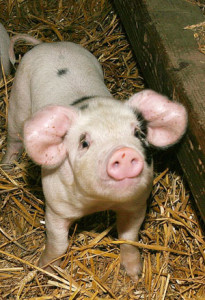 There are still sound reasons to buy a crossover rather than a traditional SUV (more on this below). But lowering your gas bills  isn't one of them.
On the upside, the Highlander's engines both run on regular unleaded – and the gas tank is large (19.2 gallons) which lets you go almost 500 miles on the highway in between fill-ups.
AWD-equipped models feature traction enhancers such as Downhill Acceleration Control (DAC) – which controls descent using automatic throttle control and engine braking rather than burning up the brakes – as well as a locking center differential.
The six-speed automatic, meanwhile, has driver-selectable Sport/manual and Snow modes.
ON THE ROAD
Here's another irony: The car companies have spent the past decade-plus civilizing truck-based SUVs; getting them to behave – to ride and handle – more like cars than trucks. At the same time – like ships passing in the night – crossovers have been getting bigger and heavier and (wait for it) increasingly behave more and more like traditional, truck-based SUVs.
You notice this most when the road's straight – and when it's not straight.
On a straight road, the burgeoning bulk imparts a substantiality that the first (and even second) generation crossovers often lacked. That body-on-frame gravitas. Solid. Owns the road.
The Highlander feels as imperturbable as a just-felled redwood.
As it ought to – being two tons-plus, empty.
On the downside – in the corners –  these ever-bigger/getting beefier crossovers often handle like a big truck hauling a load of just-felled redwoods. At normal – legal – speeds – they're ok. Just as most truck-based SUVs are ok. But dial it up – which is tempting, because at moderate speeds, these things feel pretty nailed down – and you'll quickly find them coming unglued.
Or at least, making it plain they're being pushed.
In the Highlander's case, the stability control intervenes early – and often – if the brawny, broad-shouldered Toyota is subjected to even moderate lateral g forces. It's amusing watch the little light flash and feel the ABS pulse like a spasming Pomeranian.
On the upside, it keeps the deliberately dumb out of trouble – but it makes it hard to drive smoothly without lowering your speed to the ho-hum velocities at which this beefster is happiest.
The steering is super-boosted but not imprecise. It merely lacks feel. The idea here is probably to try to make the Highlander (warning! warning! politically incorrect phraseology imminent!) wife-drivable. Old-school, truck-based SUVs were often not. Crossovers exist to make suburban soccer moms feel "safe" – in a vehicle that kinda looks like – but does not drive like – an SUV.
One way this manifests in the Highlander – related to the one-finger steering – is its (relatively) tight turning radius – 38.7 feet (as opposed to a Queen Elizabeth-esque 42.4 feet for the Ford Flex). This – in tandem with being a few inches shorter than a ship of the line like the Flex – makes the Highlander pretty easy to deal with in the traffic-choked 'burbs, its natural home.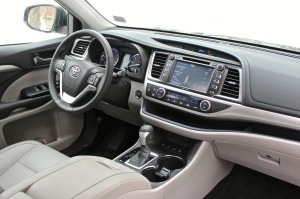 Outward visibility is good, too – despite the "safety" Catch-22 bequeathed unto us by the uber-tall (and thus, uber vision-restricting) head restraints growing out of the second and third row seatbacks. Not Toyota's fault – the feds require these tall boy headrests to protect us from whiplash. Except they have the downside of making you more likely to wreck because it's hard to see what's going on behind (and around) you. But it's less bad in the Highlander because the back glass is reasonably large – and isn't slanted at an extreme angle – a popular but not especially helpful styling touch these days.       
Though Toyota doesn't offer a big guns engine upgrade – such as the Flex's available twin-turbo V-6 – the Highlander's non-turbo V-6 probably strikes the just-right balance between very good acceleration and acceptable gas mileage. Besides which, there's the plus of not having to see what will happen to turbos – and your bank account balance – when the warranty runs out.
AT THE CURB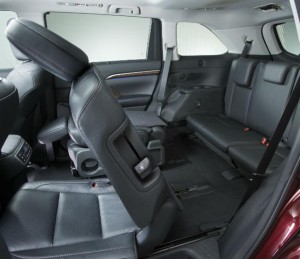 Get out your tape measure and you'll discover the following: The '14 HIghlander has grown 2.7 inches (191.1 inches vs. 1188.4 previously) and is slightly more than half an inch wider through the hips (75.8 inches vs. 75.2 in '13). Both front and rear track have been widened, too. But the '14 sits 1.2 inches lower to the ground than the '13 (68.1 inches vs. 69.3). The sum of all these numbers is a sportier-looking Highlander that's also roomier in a few important categories – such as front and second row legroom – now up to 44.2 and 38.4 inches, respectively (as opposed to 43.4 inches and 38.3 inches before)
There is also more cargo room behind the third row – addressing a frequent gripe leveled at the old Highlander. It's now 13.8 cubic feet (comparable to the trunk space in several current-year mid-sized family sedans) vs. the Miata-sized '13's 10.3 cubic foot cubbyhole.
However, total capacity – third row folded – is down to 83.7 cubic feet from 95.4 in the 2013 Highlander.
Speaking of that third row: On the good side, Toyota put a lot of thought into making them accessible. The second row slides forward (and down) easily, without Arnold Schwarzennagerian effort. Now you can get to the third row. But that baleful-looking bench is small, obviously less padded than the second row – and there's nearly nil legroom and ditto the headroom. These are really jumpseats – fine for the preadolescent set – but forget about it if you're of legal drinking age. If you're sans kids, the best thing to do is order the second row captain's chairs – and use the rest of the available real estate for cargo.
From the side, the Highlander is handsome if not particularly distinctive. Viewed from the front, the Cylon Centurian-inspired grille imparts a somewhat menacing mien. If Toyota offered an LED light that roved back and forth above the grille, the effect would be complete.
By your command.
Two interior details stand out: The first is a wide (and deep) shelf that runs almost the length of the dash. Just the ticket for loose items – including your key fob, since the Highlander has keyless (push-button) ignition. Or, rest your iPod there – and run the cord through the handily provided slot to the USB connection below.
The second is the cavernous – it's literally a foot deep – center console storage bin. It is bigger than a Miata's trunk – well, it feels like it is. And it has a trick sliding/retracting cover – instead of the usual  flip up or flip sideways top.
There are also – as befits the image – a pair of overside cupholders in the center console, along with a meaty grab-handle shifter.
Base models get a 6.1 inch touchscreen LCD display but you can upgrade to a larger, 8 inch screen with different (nicer-looking) graphic displays. The upgraded Bluetooth in XLE and Limited trims has a megaphone function that lets the driver pipe his voice to the people (the kids) in steerage, telling them to sit down and shut up without having to scream or even turn around.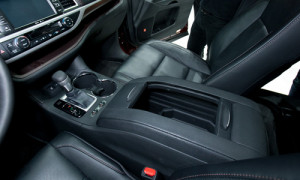 The power liftgate is adjustable – so you can set it to not hit the low-hanging ceilings of parking garages and such. LE Plus trims also come with a flip-up (rather than fixed) glass panel that lets you access the cargo area without having to open the liftgate.
Savvy.
Limited trims include a table to go with the second row captain's chairs, 12-speaker JBL premium audio, ambient mood lighting for the interior and heated and cooled front seats, among the highlights. If you go all the way and order the Platinum trim, you'll get heaters for the captain's chairs, a heated steering wheel for you and a panorama sunroof for everyone.
THE REST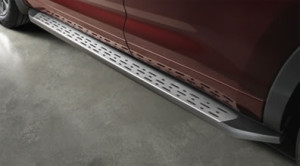 One of the civilized aspects of a crossover SUV such as the Highlander relative to truck-based SUVs is low step-in height; you get in rather than climb in. Integrated running boards that serve double-duty as steps further ease entry and exit.
Why does Toyota even bother offering the 2.7 liter engine, given its performance sucks – and it also sucks gas? Picture me shrugging my shoulders. I have no idea. There's no CAFE (government fuel economy requirements) advantage – and buyers can upgrade to the 3.5 liter V-6 for a mere $1,305. Spread out over a five or six year loan, that's hardly noticeable.
The power/performance difference isn't.
Go with the V-6. There are few reasons not to – and many reasons to do so. One of the biggies – aside from getting to 60 faster than grampa can walk down to the mailbox and back – is that you can get AWD. With the four, you can't. It's slow – and it doesn't go in the snow. Which makes it about as useful to have around as alcohol-free beer at a frat party.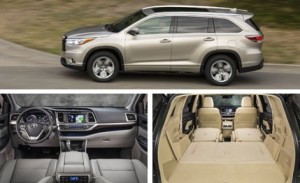 Though the Highlander won't out-tow a Hemi Durango, it will out-pull most its car-based crossover competition. The Honda Pilot maxes out at 4,500 lbs. Ditto the Ford Flex. The Mazda CX-9 can only handle 3,500 lbs. Hyundai's Sante Fe is one of the few that matches the Toyota's 5,000 lb. max pull capacity.    
Finally, my Major Gripe: The stability control cannot be disabled fully unless you first come to a complete stop; otherwise, it's two-thirds on even when you've pushed the "off" button – and will insolently come back on all the way once your speed exceeds 40 MPH. This isn't merely the juvenile critique of a burnout happy, sideways slidin' automotive journalist. Consider winter. You want momentum – must have it, to make it up the proverbial hill. But the TCS thwarts this by cutting engine power and applying the brakes – or forcing you to come to a complete stop to disengage the nanny.
Toyota is trying to wet nurse the inept, I realize – but for those few who still know how to drive, a little slippage is neither dangerous nor undesirable. In fact, it can be essential – when you're trying to maintain forward progress in slippery situations. "Off" ought to mean off. And it should be possible to turn the damn thing off without having to stop the vehicle first.
Oh. Yeah. Toyota probably ought to start thinking about upping the warranty coverage. Riding on the rep worked for a long time but – look in the rearview: The Koreans are coming. Fast and hard. Three-thirty-six isn't going to cut the mustard much longer, I suspect.
THE BOTTOM LINE
It's not gonna knock your socks off. But it does what it's meant to do better than most. And that ought to be enough for the already Toyota-inclined. Whether it will be sufficient to draw in the newbies remains to be seen . . .
Throw it in the Woods? 
PS: We depend on you to keep the wheels turning.  If you value an alternative to the MSM, please support independent media. Our donate button is here.
For those not Pay Pal-inclined, you can mail us at the following:
EPautos
721 Hummingbird Lane SE
Copper Hill, VA 24079