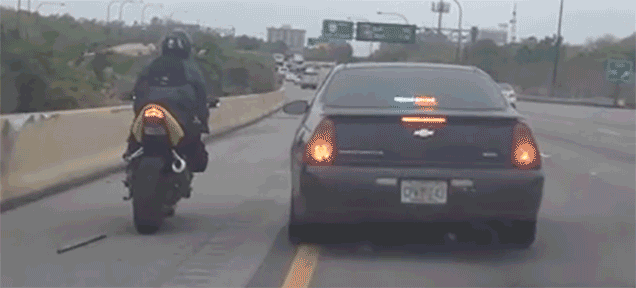 This Florida State Trooper in an unmarked Monte Carlo, attempts to pull over a motorcycle with a questionable technique. The resulting traffic stop includes the police car pinning the bike against the shoulder barrier, after which the officer tries to evade the citizen filming the encounter.
According to the Youtube description, the officer's name is Sgt. Spencer Ross who has a history of chasing motorcycles, violating Florida Highway Patrol policies and that most of his arrests and citations of bikers are falsified. Take that with a grain of salt, but his actions in this particular incident a certainly suspect.
According to FHP guidelines.
Members are authorized to pursue suspects who they reasonably believe have committed:

A felony offense;
a violation of section 316.192 (reckless driving);
a violation of section 316.193 (DUI).

Each decision must be based upon the conditions and circumstances existing at the time and by the training and guidelines set forth by the agency.

ALL OTHER PURSUITS ARE PROHIBITED
While the events preceding the traffic stop are not recorded, the officer's attempt at running from the cameraman sure appears to be a guilty response.