It's much simpler buying a Japanese 1500 series full-size truck like the Toyota Tundra – and its across-the-street rival, the Nissan Titan (reviewed here).
Both come in fewer configurations –  so there's less confusion – and they only come with V8 engines (the Titan has just one V8 engine).
The Big Three trucks are available in a wider variety of configurations and they each offer multiple engine options – four of them, in the case of the Ford F-150 (reviewed here) three of them V6s and two of those with turbos.
On the other hand, it's also more expensive to buy a Japanese 1500 pick-up.
Both the Tundra – focus of this review – and the Titan each cost several thousand dollars more to start than the base trim versions of the Big Three 1500s.
But, it has other charms – and those charms may make it less expensive to keep as the years and miles roll by . . . .
WHAT IT IS
The Tundra is Toyota's full-size pick-up. Like other 1500s, it's available in regular cab, extended cab and four full-size door crew cab configurations – with three different bed lengths available, depending on the cab style you pick.
Unlike the Big Three 1500s, the Tundra comes standard with a V8.
Unlike the Nissan Titan, you have your choice of a smaller or larger V8.
But there is no diesel option, V8 or otherwise. The Dodge Ram 1500 is available with a diesel V6 and the Titan XD, which is more than a 1500 but not quite a 2500, is available with a Cummins turbo-diesel V8.
Prices start at $30,500 for the base SR trim regular cab with an eight-foot bed, 2WD and 4.6 liter V8.
Double cab Tundras – two standard-sized doors and two smaller rear doors – start at $30,120 with 2WD, a six-foot bed and the 4.6 V8. The scale got up from there to $43,495 for a double cab with 4WD, the eight-foot bed and the upgrade 5.7 liter V8.
A top-of-the-line Platinum crew cab – four full-size doors – with 4WD and the 5.7 V8 lists for $50,130. There are also Limited, off-road-intended TRD Pro and 1794 editions of the Tundra.
Be advised that Crew cab Tundras are only available with a shorter-than-usual (5.6 foot) bed.   
For cross-shop reference, a Chevy Silverado 1500 stickers for $27,0975 to start for a 2WD regular cab with an eight-foot bed; this trim comes with a 4.3 liter V6 – which can be replaced with either of two optional V8s.
The Ford F150's prices start at  $27,030 for a similarly laid-out 2WD/regular cab, also powered by a V6 (with two turbocharged V6s or a 5.0 V8 available optionally).
A Dodge Ram 1500 regular cab in the same configuration – with a 3.6 liter V6 – lists for $26,495. The V6 can be upgraded to a V8 or – unique in this class – a turbodiesel V6.
The Nissan Titan is more Tundra-esque, both in terms of its base price ($29,580 to start) and because it is the only other 1500 series truck that comes standard with a V8 engine.
WHAT'S NEW
Limited trims get standard power seats; otherwise, the Tundra carries over from 2016 largely unchanged.
WHAT'S GOOD
Regardless of trim, a V8 is standard.
Higher standard tow rating (10,500 lbs.) than V8 Titan (9,740 lbs.) and Big Three – and small standard V6 – rivals.
Simpler technology should prove more long-term durable.
Not as Cod Piece-y as the Big Three trucks; it's possible to  touch the bed floor without standing on a milk crate.
No step ladder or Metamucil pole necessary to get into bed.
WHAT'S NOT SO GOOD
Big Three trucks are the better deal on the lower end and offer more drivetrain options.
Crew Cab versions come only with stubby 5.6 foot bed.
Just one USB hook-up.
UNDER THE HOOD
In a way that really matters – if you're shopping for a truck – the Tundra is closer to the way American trucks used to be made.
Because it comes standard with big – and simple – V8s.
No turbochargers. No V6s.
Ironic, isn't it?
And the Tundra is the foreign-brand truck.
The base engine is a 4.6 liter V8 that makes 310 hp and 327 ft.-lbs. of torque; optional (and standard in Platinum, Limited, TRD PRO and 1794 (named after the huge ranch in Texas) is a 5.7 liter V8 that makes 381 hp and 401 ft.-lbs. of torque.
Neither of these engines is saddled with direct injection, either.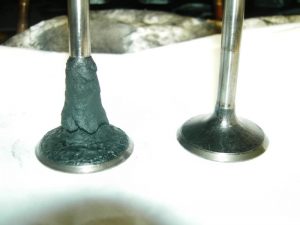 They are fed via port fuel injection – a simpler system that doesn't need multiple fuel pumps or operate at 3,000 PSI and which will never cause you problems with carbon-fouled intake valves, as is becoming a problem with engines fitted with direct injection systems. In fact, Ford is going to add a separate PFI circuit to its direct-injected engines next year (2018) to deal with the carbon fouling. So, two fuel delivery systems – one to feed the engine, the other to keep the engine from being carbon fouled by the first system.
Chevy's engines are direct-injected, too. As is the Nissan Titan's.
As to the Why – it's because they are newer trucks and were designed with the latest – and pending – federal fuel efficiency fatwas in mind. These fatwas – CAFE, or Corporate Average Fuel Economy requirements –  are becoming more onerous and to cope with them, the other manufacturers have resorted to extremes such as twin-turbo V6 engines in trucks (and eight and ten speed transmissions) as well as affronts to common sense such as aluminum bodies . . .  more on this follows below.
The crazy thing is that tall this effort – and expense – hasn't had much effect, as far as the individual trucks are concerned.
The Toyota's V8s may suck more gas – but not all that much more gas – than the V6/turbocharged and direct-injected V8 competition. 15 city/19 highway for the 4.6/2WD combo (best case) and 13 city, 17 highway for the 5.7 liter/4WD combo – vs. 17 city, 23 highway for the Ford F-150 with its top-of-the-line twin-turbo 3.5 liter V6 and 4WD.
The Titan, with its direct-injected 5.6 V8, rates 15 city, 21 highway.
It's not that big a difference.
And how will those turbo'd V6s and direct-injected V8s hold up after 150,000 miles of back-and-forth on dust roads out in the middle of Nowhere, TX?
Big, simple (and PFI-fed) V8s like the Tundra's are not the Latest Thing, but they are known things – durable and rugged. Ditto the simpler six-speed automatic transmission that comes standard with both the Tundra's V8s – vs. the seven, eight and ten-speed automatics in the Nissan, GM and Ford trucks.
Plus, you get more standard towing capacity – 10,500 lbs. – with either of the Tundra's V8s than the rival 1500s can manage with their smaller/lighter-duty standard equipment sixes.
Or the the Titan – with its standard V8.
Another virtue of the Toyota's V8s is that they are both regular fuel engines, designed to run best – and give their best mileage – on 87 octane, the cheap stuff.
ON THE ROAD
Though it's about the same size as other 1500s, the Tundra somehow feels – and drives – less Huge.
Here's how it does that.
First, there's less of it projecting forward. It is stubbier – from the A pillars at the base of the windshield to the front bumper. The front clip/hood is about Camry-sized, as far as how long it is. You don't feel as though you are on the bridge of a supertanker, the prow miles ahead in the mist.
And it's more than feel.
Because there's less schnoz, the Tundra has more effective clearance. Tight turns – where there are things you might hit on either side of the thing – are less hairy and can generally be done without having to stop, back up, then inch forward – repeat.
The tested crew cab/short bed Toyota's turning circle is three feet tighter than the same configuration F-150's: 44 feet vs. 47.1 for the Ford. And four feet tighter than the Titan's (48 feet).
That is a big difference.
The extra cylinders, too.
It's true the V6s in rivals like the F-150, Silverado 1500 and Ram are nearly as powerful as the Tundra's standard V8, but they don't make as much torque – and what they do make, is made higher up in the rev range. The Tundra's standard 4.6 V8 produces 327 ft.-lbs. at 3,800 RPM. The standard 3.5 liter V6 in the F-150, as a counter-example, only makes 253 ft.-lbs. and not until 4,250 RPM.
And of course, there's sound.
That V8 lope. Nothing else quite like it.
Or that tows like it.
The standard-issue Tundra pulls 10,500 lbs. – and you don't have to buy the optional V8 to get that capability, either.
A 26.4 gallon fuel tank is standard – but you can upgrade to 38 gallons (the larger tank is standard in Limited, Platinum, 1794 and TRD Pro trims) which gives the truck long highway legs – almost 500 miles – even with the 5.7 V8 and 13 MPG.
It's quick, too. With the 5.7 V8, a Tundra gets to 60 in about 6.4 seconds. It's not as quick as the class-quickest Silverado armed with its top gun 6.2 V8 (which is basically the Corvette's V8 snugged into a truck) but you will never be afflicted with The Slows.
This truck still has a leaf spring suspension (some of the others -the Nissan Titan is one – have coil spring rear suspensions) so the ride is a little stiffer and on washed-out/rutted gravel roads, there's more axle hop than in the newer-design trucks. But the Tundra's one-finger steering – and tighter turning circle – makes up for a lot of that.
Besides which, leaf springs are simple and tough and durable – you know, the design attributes that used to be desirable in a truck.
AT THE CURB
The Tundra's being an older design is a good thing in other ways, too.
The steel body, for one. If you dent the bedwall, it's a straightforward fix to pull the dent or weld in a new panel. With aluminum panels – like the new Ford F-150 – it's not as straightforward. But it is more expensive. Aluminum is harder to work, requires dedicated work space at the body shop due to cross-contamination issues while welding and takes more skill to weld than steel.
Ford went to aluminum to cut weight in order to increase fuel economy, to placate federal bureaucrats. It is understandable. But it may not be advisable – from the perspective of the people who actually own the trucks.
Another thing about the Tundra that's good – and a function of it being an older design than the others: It has not-too-tall bedwalls. They are still tall – about 55 inches, or about a foot taller than the bedwalls of my compact-sized '02 Nissan Frontier pick-up – but not so tall that a tall guy like me (6 ft. 3) has to stand on tip-toes to just barely be able to touch the bed floor. I can almost lay my palm flat on the bed, without both feet flat on the ground.
CodPiece Fever hasn't yet caught up to the Tundra.
It is big, certainly. But it's not as overwhelmingly outsized in proportions as some of the current 1500s. The shorter front clip, the not-quite-as-high roofline, the not-too-tall bedwalls.
It's more manageable.
But, there's a downside.
The crew cab (four full-size doors) Tundra is only available with a 5.6 foot bed, which means dropping the tailgate – and tying stuff down – if you need to carry longer items. On the other hand, you do get 42.3 inches of backseat legroom with this combo.
Some of the others – like the Chevy Silverado – offer the crew cab configuration with a 6.6 foot bed. It makes them more unwieldy to maneuver, of course –  the crew cab/6.6 foot bed Chevy is 239.5 inches long overall vs. 228.9 inches for the crew cab Tundra with the 5.6 foot bed.
But they're more useful for hauling stuff.
Horses for courses.
THE REST
All Tundras have more-than-usual ground clearance – 10.4 inches, minimum, including the base 2WD version.
The 1794 edition – named after the ranch in Texas – comes with handsome cowboy suede seat inserts and even better – because extremely politically incorrect – floormats decorated with what looks like spent .45 Colt brass.  If they see this in New York City, they're going to have a stroke.
There are three power points on/in the center console, but only one USB hook-up, a small tell-tale about the Tundra's age. The newest trucks have several USB hook-ups, given how hooked-up to gadgets everyone is now vs. back in 2007.
But, the Tundra is less bedazzled by gadgets – there are fewer displays and buttons and menus to scroll through – which makes it both simpler and less trouble-prone (probably) and also easier to just drive.
THE BOTTOM LINE
Some things do get better with age.
If you like what you've found here, please consider supporting EPautos.
We depend on you to keep the wheels turning! 
Our donate button is here.
 If you prefer not to use PayPal, our mailing address is:
EPautos
721 Hummingbird Lane SE
Copper Hill, VA 24079
PS: EPautos stickers are free to those who send in $20 or more to support the site.