At last, something.
Trump "pulled out" of the Paris Climate Change Agreement – agreed to by his predecessor back in 2015 and awaiting a majoritarian 55 of the earth's nations to agree before it becomes binding within those countries.
That is to say upon the people within those countries – who had no say in the matter whatsoever beyond the gauzy connection between a Dear Leader, who may have received the electoral support of a minority of the citizenry at some distant election, claiming to "represent" them when he says Aye.
Trump's saying Nay – regardless of the reasons why – is (yes) huge.
Especially as regards your car.
New – and old.
This has not been much discussed but ought to be.
Both, you see, "emit" carbon dioxide. Not much – the total atmospheric concentration of C02 is less than half a percent of the "air" we breath. Which is mostly nitrogen – almost 80 percent – the remaining almost 20 percent being oxygen and lesser gases.
There is much more Argon in the "air" – almost one full percent of the total! – than C02. But because Argon does not come out of the tailpipes of cars, it is not regarded as an agent of "climate change."
But C02 is, we're told – and the Paris Agreement would have cemented its regulation as a "pollutant," just like gasses you can smell and which make you sick or even kill you – none of which carbon dioxide, in the fractional amounts produced by motor vehicles, could even possibly do to you.
Keep in mind that the grand total of all the carbon dioxide from every source, natural as well as man-made, that is floating around in the "air" is less than half of one percent of the total.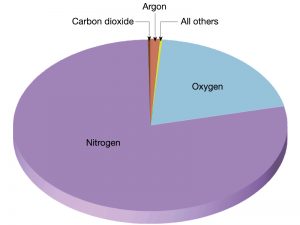 What percentage of that less-than-half-a-percent do you suppose is produced by motor vehicles?
You may perhaps have noticed a pattern.
VW was crucified over the fractionally higher amounts of an actual pollutant – oxides of nitrogen (NOx) which are reactive and potentially harmful to people – emitted by its diesel engines.
It was implied that the amounts at issue were huge and catastrophic – "up to 40 times the legal maximum!" it was endlessly screeched. But in fact, the amounts were minuscule – of relevance only insofar as they were higher than an arbitrary government standard. There was no burden of proof upon the government to establish that, in fact, these fractionally higher/minuscule increases in N0x emissions caused any harm to anyone.
It is the same – but much worse – with this carbon dioxide/"climate change" business.
First, because the amounts at issue are almost immeasurable. People in the mass have been taught by TeeVee to believe – and that is exactly the right word, in the religious sense – that "human activity" (not just the activity of motor vehicles) is pouring immense volumes of carbon dioxide into the air.
And yet, ask any of them how much of the earth's atmosphere is composed of C02 and how much of that amount is produced by man-made sources. You are likely to get answers considerably higher than fractions of a whole number.
Second, because carbon dioxide – unlike oxides of nitrogen and other actual pollutants that choke you or give you cancer or otherwise represent a menace to health – is an inert gas. It does not make it hard to breath – not in fractional amounts, at any rate – and while it is indeed a "greenhouse gas," the failure of the Experts tub-thumping "climate change" (nee, "global warming," which didn't market well) to honestly state how small the amount at issue is in the scheme of things, along with the claim that fractions of fractions of a percent produced by "human activity" are triggering catastrophic change, is either witch-doctoring or something much more malevolent.
Certainly, the climate is changing. It does that. One of the great idiocies of our age is that the public, a large percentage of it, has come to believe it is unnatural for the climate to change. And that any change they find disquieting or unpleasant – such as a particularly hot summer or a hard winter – is unnatural and more than that, caused by man and his infernal machines.
This fear is egged on by the political apparat and the media that is attached to it like a lamprey to the flanks of a shark. They both have much to gain. Also crony capitalists such as Elon Musk – whose entire "business" depends on the government mandating the manufacture and subsidizing the sale of his (cough) "zero emissions" electric cars and on the "carbon credit" extortion racket that provides his operating capital. Musk is quite understandably furious about Trump's decision; see here.
As the Church Lady used to say on Saturday Night Live, it is all very convenient. 
The shuck-and-jive that's been performed is to convince people a Dire Threat looms. And Dire Threats – which seem to pop up very conveniently whenever a prior one disappears – see, for instance the Dire Threat of Radical Islamic Terrorism, which popped up after the old excuse for everything, the Soviet Union, disappeared – always require Dire Solutions.
In this case, punishing regulation of motor vehicles.
Just ours, of course.
We will be required to pay more for new "compliant" ones, and their use will probably be limited or taxed, in order to "encourage" us to self-limit. This is already being done in Europe.
The older cars – "gross polluters" in the argot of climate change – may be banned outright. Also already happening in Europe.
Neither the Dear Leaders nor their Praetorians (e.g., the military and also the lesser Praetorians in law enforcement) will suffer much, if any diminishment. Dear Leader will not be driven around in a Prius. Just as Dear Leader – and the lesser leaders – will remain armed to the teeth even as they urge us to believe that guns offer no protection and only exacerbate violence.
But this Dear Leader has given us a respite. He will inherit the wind for it.
If you like what you've found here, please consider supporting EPautos. 
We depend on you to keep the wheels turning! 
Our donate button is here.
 If you prefer not to use PayPal, our mailing address is:
EPautos
721 Hummingbird Lane SE
Copper Hill, VA 24079
PS: EPautos stickers are free to those who send in $20 or more to support the site.