One of the most successful luxury cars ever is the Lexus ES. Along with another Lexus – the LS – it ate Mercedes' and BMW's lunch  . .  . and didn't leave a tip.
Lately, the Koreans – the Kia-Hyundai conglomerate – have been trying to do to the Japanese what they did to the Germans. And they've partially succeeded – just not as spectacularly. Probably because the blowout success Lexus enjoyed when it trounced the Germans on value isn't possible anymore. Because cars in general have risen to such a high standard – regardless of brand.
Still, inroads have been made – and this Kia Cadenza is one of the ones kicking up rooster tails behind it. And for the same reason the original Lexus ES was as successful as it was: It offers a lot – and in some areas, a lot more -than its target, for less money.
Only this time, the car in the crosshairs is the Lexus ES.
WHAT IT IS
The Cadenza is Kia's entry-luxury sedan.
It specifically targets the Lexus ES350, Lexus' entry-luxury sedan – which it undercuts on price by several thousand dollars.
The Kia's base price is $31,990 – vs. $39,895 to start for the ES350.
The Cadenza is slightly larger on the outside than the Lexus – but both cars qualify as full-size, despite being their respective brands' "entry" luxury models. The Kia hasn't quite got the limousine-like rear seat legroom the ES350 has – 40 inches vs. 37.2 for the Cadenza. But it has a lot of other things that don't come standard in the ES – including standard 18-inch wheels (the ES350 comes standard with 17s) and heated leather seats.
The ES comes standard with vinyl seats and heaters cost extra.
If you move up to the price-par Cadenza Technology trim ($38,990) you get: 19 inch wheels, LED headlights, a heated steering wheel and cooled seats, an upgraded (8 inch vs. the standard seven inch) LCD touchscreen, a panorama/full-length sunroof and a top-drawer, 12-speaker, 630 watt Harman Kardon audio system.
And you're still saving about $1,000 vs. the base-priced ES350.
A top-of-the-line Cadenza Limited ($44,390) adds heated rear seats, a heads-up display (HUD), manual side shades and a power rear sunshade. Kia even sent a team of plumbers over to BMW – or so it looks – to snatch a bunch of quilted/diamond pattern Nappa leather for the Cadenza Limited's seats.
WHAT'S NEW
The 2017 Cadenza gets a major makeover, including subtle changes to its underlying chassis (slightly longer wheelbase, slightly longer and wider than the 2016) and dramatic new and very Lexus-like exterior bodywork, along with an updated interior, a new eight-speed automatic transmission and new technology features, including wireless cell phone charger, proximity-sensing trunk opener, Heads Up Display and an updated version of Kia's UVO telematics, with Android Auto and Apple CarPlay.
WHAT'S GOOD
Like the original Lexus ES, the Cadenza is a great value vs. the established/Blue Chip players .
Cush ride.
Offers tech/amenities not available in price-equivalent competition.
Looks much pricier than it is.
WHAT'S NOT SO GOOD
Not as much room in the backseat as in the Lexus.
V6 has power – more power than ES350's V6 – but new eight-speed automatic is programmed for maximum mileage; the two sometimes operate at cross purposes.
Kia isn't Lexus . . . not yet.
UNDER THE HOOD
Like the Lexus ES, the Cadenza comes standard with a V6/automatic transmission driving the front wheels.
The Kia's V6 is a little smaller – 3.3 liters vs. 3.5 for the Lexus – but it's also a little stronger: 290 hp (and 253 ft.-lbs. of torque) vs. 268 hp (and 248 ft.-lbs. of torque). You also get an eight-speed automatic vs. the six speed that comes standard in the ES350.
Both cars get to 60 in about the same mid-six-second range and return about the same mileage: 20 city, 28 highway for the Kia and 21 city, 30 highway for the Lexus.
Like almost all new cars, the Cadenza's engine is direct injected.
The ES350's V6 is not.
Because the current ES350 is mostly the same car as last year – and the year before. The last time the ES350 got a major makeover was back in 2013. Which is why it still has an engine with port fuel injection – and a six-speed transmission.
But this may be a good thing. And a bad thing, as far as the Cadenza is concerned.
Direct injection has issues. For one, it's a much more complicated system than port fuel injection. It (DI) operates at several thousand pounds of pressure vs. 30-40 or so psi for a port fuel (PFI) system. There are two fuel pumps in a DI system; one to get the fuel from the tank to the pump; another to "step up" the pressure to the appx. 3,000 psi necessary to shoot it directly into each of the engine's cylinders.
Which brings up the other issue.
DI-fed engines sometimes have problems with carbon build up on the backsides of intake valves, which happens because in a DI system, gas – which is a solvent – does not wash over the backsides of the valves before it enters the cylinder (as in a PFI system).
It is directly injected into the cylinder.
Hence, crud.
Which eventually has to be cleaned off. Too much crud build up and the valves might not seal properly, a big problem. And the solution often isn't easy or cheap. In a worst-case scenario, the engine has to be partially disassembled, in order to get at the carbon'd up valves. Best case scenario is a flush with solvent.
Either way, it's a likely additional expense/hassle that doesn't apply to  PFI-fed engines.
So, why DI?
Uncle.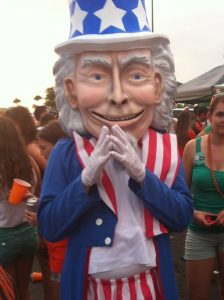 DI is another expensive technical way to squeeze incremental mileage gains out of an engine and this is necessary because of ever-rising federal fuel economy mandatory minimums – currently 35.4 MPG on average.
DI – like aluminum bodies – is being resorted to by car companies (not just Kia) because they have to – not because car buyers are demanding it. Did you demand it?
How many car buyers even know what DI is?
Similarly, the Cadenza's new-for-2017 eight-speed automatic.
Most cars built within the past twenty years have transmissions with five or six speeds – with the top gear (fifth or sixth gear) being an overdrive gear. Just the one overdrive gear.
More and more new cars come with transmissions that have multiple overdrive gears.
Seventh (.799)  and eighth gear (.648)  in the case of the Kia.
The idea being to cut down engine RPM at steady state cruise to the minimum, in order to  . . . you guessed it . . . squeeze out an incremental increase in MPGs, in order to avoid the Wrath of Uncle.
The downside is these transmissions can be very, very expensive to replace and also sometimes shift erratically – because there are so many gears and because the computer is trying desperately to upshift to higher gears as soon as it can, in order to maximize economy. When you push down on the gas, the transmission then has to jump down two or three gears instead of just the former one or two. . . .
Ironically, the ES350 – despite not having the either DI or an eight speed transmission – still manages to get slightly better mileage than the Cadenza, which has both those things. This is probably because the Kia is heavier – 3,633 lbs. vs. 3,571 lbs. for the ES350.
Despite having some aluminum panels and DI and the eight speed box.
ON THE ROAD
If you slum around the mainstream media reviews of the Cadenza – and the Lexus ES – you will find complaints that the cars do not behave like Nextel Cup stockers. That they do not accelerate fiercely enough – aren't "driver's" cars.
As if people still did drive.
Well, most don't – certainly not the people who drive ES350s . . . and Cadenzas.
These people are looking for a luxury car.
Such are actually fairly hard to find. Probably because the car companies listen too much to the mainstream car press and their Nextel Cup criteria for pretty much everything on four wheels. It's why most luxury sedans are marketed as luxury-sport sedans. They have bucket seats and racy cockpits and – all-too-often – over-firm suspension tuning and ride on inch-high sidewall performance tires which conspire to make them pleasing to the mainstream car press for being sufficiently sporty . . . but with the side-effect that they usually have overly firm ride quality and tend to make your back (and backside) sore after a couple hours behind the wheel.
The ES was never like this. It was – and is – soft and luxurious, a wonderful place to spend a few hours.
Ditto this Kia.
Though there is almost 300 hp available and there are four driver adjustable settings – including, inevitably Sport – as well as steering wheel-mounted paddle shifters for the eight speed automatic to allow the driver to manually (within a certain range) control when the transmission upshifts and downshifts – this car isn't about speed. It is about comfort.
And, quiet.
Kia obviously spent a lot time thinking about how to wall off the outside world – including the world under the hood. There is no exhaust noise at all and very little engine noise unless you really work for it.
And why would you?
If that's you, this isn't your car.
There are BMWs and even – yes – Cadillacs for that.
This Cadenza is an attempt to clone the ES350, just as the ES350 was an attempt to clone the stately German luxury sedans (sans the sport) of the mid-late 1980s. And it does a fine job – especially when you take the price difference into account.
AT THE CURB
From the side, this could be the new ES – or even an LS.
A handsome profile, even if derivative.
So what? Good looks look good – and who cares whether it looks like something else that also looks good. The shape of my beloved '70s Trans-Am was a blatant cribbing of a '60s Ferrari. I am not griping about it – especially since I can't afford a Ferrari but can afford the Pontiac-ized knock-off.
The Cadenza is a large car – 195.7 inches long – and as it turns out, about 2.4 inches longer overall than the ES 350 (which is 193.3 inches long). But the striking thing about both cars is how large they are given their nominal status as their respective brands' "entry luxury" sedans.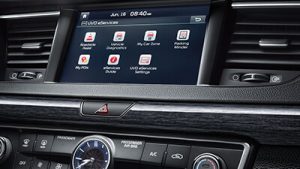 The ES350, for instance, is a bigger – and roomier – car than the next-up-the-Lexus-ladder GS350, which is 192.1 inches long overall and has nearly four inches less backseat room, as well as a smaller trunk (14.3 cubic feet vs. 15.1 cubic feet).
Its base price is also $50,635.
The Cadenza's not bigger than its big brother, the K900. But it has within an inch as much legroom in both rows (45.5 up front, 37.2 in the rear vs. 45.9 up front and 38.2 in the rear of the K900) and almost identical trunk space (16 cubes vs. 15.9 cubes). The big difference is the K900's much higher base price – $49,900.
Well, that and the fact it is rear-wheel-drive (as is the Lexus GS350) and offers a V8 engine.
Both the Cadenza and the ES350 Lexus are, of course, front-wheel-drive. This more than size or features is what defines them as "entry luxury."
But this is more suited to their duty as comfortable cruisers – and it is a more space-efficient way of arranging things. FWD cars, all else being equal, are almost always roomier inside – and have bigger trunks – because room isn't taken up by driveline humps in the floorpan and a rear axle under the trunk floor.
But, the Cadenza is not as space-efficient as the ES350 – which has a stupendous 40 inches of backseat legroom. That is almost two inches more legroom than in the backseat of the much larger overall and not "entry level" K900 (200.6 inches; 38.2 inches of rearseat legroom) and almost three inches more than the slightly larger overall Cadenza (195.7 inches; 37.2 inches of rearseat legroom).
This is the one definitely objective category where the Lexus is unquestionably the better car – if space matters to you.
Not that the Cadenza's back seats are scrunchy – they're not. But the ES350's backseats are regal; you can stretch your legs out completely without touching anything except carpet. The only other cars that have that kind of space in the backseats are six-figure lunkers like the BMW 7 and Mercedes S.
That said, it is still a very tempting offer vs. the Gold Standard ES350 – and a bunch of others, too.
Look again at the Cadenza's base price. It's not that far off what you'd pay for a loaded Camry. Which isn't available with quilted Nappa leather cut into diamond patterns – just like in a six-figure BMW 7.
You can't get that – or a HUD or some of the other Cadenza amenities – in the ES350, either. And despite all these upgrades, the 2017 Cadenza's base price is actually slightly less than the 2016's, which was $32,990 to start.
Solid.
THE REST
Like the original ES (and LS) the Cadenza is a lot of car for the money. And a damned nice car, regardless of money.
Its main problem, though, is a problem Lexus never had.
Kia is not a prestige brand.
Toyota was savvy and created Lexus – the brand – to sell its new luxury-brand cars, as distinct from Toyota-branded cars. And it was more than just a label and marketing; Lexus dealerships were – and are – nicer than Toyota stores.
People lined up to pay extra for a Lexus – the car and the experience. To not have to take their ES350 in for service and rub shoulders with  Corolla owners in the waiting room.
It's harder to get people to extra for a car like the Cadenza, when it shares floor space with lesser models like the Rio, et al.
Not that there's anything wrong with the Rio or other low-priced Kias. But they are low-priced Kias.
There's no such thing as a low-priced Lexus.
THE BOTTOM LINE
But on the other hand, that's just what makes this Cadenza so appealing: There is no such thing as a low-priced Lexus.
Not anymore.
Which is just the opening Kia needed to do to Lexus what Lexus did to the Germans twenty-something years ago.
If you like what you've found here, please consider supporting EPautos. 
We depend on you to keep the wheels turning! 
Our donate button is here.
 If you prefer not to use PayPal, our mailing address is:
EPautos
721 Hummingbird Lane SE
Copper Hill, VA 24079
PS: EPautos stickers are free to those who send in $20 or more to support the site.