It's a really good sign that Fiat continues to invest money in new Jeeps – like this just-updated 2017 Compass. It suggests there is a future for Jeep.
Probably because Jeeps sell.
For Chrysler, the future looks iffier.
Not much investment – and just two models available for sale, one of them (the 300 sedan) pushing eight years without major changes. If Fiat scissors the FiatChrysler partnership, Chrysler may go the way of Plymouth.
But Jeep looks solid – whether it remains part of the FiatChrysler combine or gets sold off to someone else.
The reasons why are not hard to grok.
Above all, Jeeps aren't gyps. They back up the looks with the goods. Not just the rugged Wrangler and the go-anywhere Grand Cherokee.
This Compass, too.
Believe it – or not.
WHAT IT IS
The Compass is Jeep's compact crossover SUV – a notch down in size from the Cherokee but not lacking in Jeep capability.
Though based on a car-sourced, front-wheel-drive layout, like other crossovers, the Compass offers two things other FWD/AWD crossovers don't: The ability to route 100 percent of the engine's power to a single wheel, if the other three are slipping and a 20:1 crawl ratio that serves the same function as a truck-type 4WD system's two-speed transfer case and 4WD Low range gearing.
Which is probably why Jeep refers to the AWD systems – there are two, Active Drive and Active Drive Low –  as 4WD.
It's not a marketing con.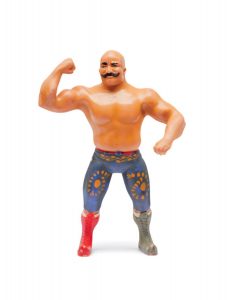 As the Iron Sheik used to say – it's the real deal.
Also the ground clearance – nearly 8 inches is standard; Trailhawk models up that to 8.4 inches.
Prices start at $20,995 for the base front-wheel-drive Sport trim – which comes standard with a six-speed manual transmission; with the optionally available Jeep Active Drive 4WD system, which includes four driver-selectable Terrain modes (Auto Snow, Sand and Mud) and automatic transmission, the price is $22,495.
A top-of-the-line Trailhawk with the most-capable Active Drive Low 4WD system – with 20:1 crawl ratio and an additional Rock Crawl mode – stickers for $28,595.
While the Compass  is in the same general class as other  compact crossovers – of which there are at least half a dozen – none of the others offer the extra measure of rough weather/off-road capability the Compass does.
WHAT'S NEW
The 2017 Compass is new from the wheels up, including its styling. It looks like a two-thirds scale Cherokee now and the similarity is so close that unless you park a Compass next to a Cherokee, you'd swear it is a Cherokee. 
Weirdly, Jeep is still (as of early summer) also selling the old Compass – which doesn't look like a Cherokee – alongside the all-new Compass. At least, until the inventory of the remaining stock of old Compasses runs out.
You can probably get a great deal on one – but there's a reason for that . . .
WHAT'S GOOD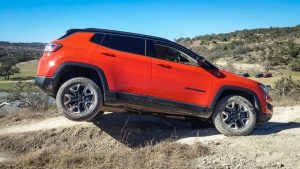 Much more hardware than others in this class.
Available manual transmission.
Almost-Cherokee interior space – in both rows – but easier to park because it's a almost a foot shorter overall.
Outstanding Uconnect touchscreen interface. One of the best in any class.
WHAT'S NOT SO GOOD
All that hardware is heavy; a 4WD Compass Trailhawk with Active Drive Low 4WD weighs more than 3,600 lbs. – which is a lot for the 2.4 liter (180 hp) four cylinder engine to lug around.
Tepid acceleration – hearty appetite.
Manual only available with FWD versions.
Almost-Cherokee turning circle – 36.3 feet vs. 37.7 feet for the larger (and longer) Cherokee.
UNDER THE HOOD
The good news is the formerly optional Compass engine – the 2.4 liter, 180 hp "Tigershark" four – is now the standard Compass engine. It has also been hopped up a little and now makes 180 hp vs. 172 hp last year.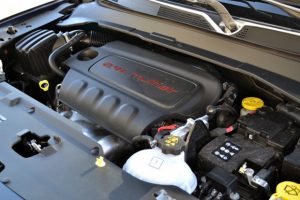 It also does not have a turbocharger bolted to it – which means no down-the-road worries about expensive-to-fix turbo (and intercooler and exhaust plumbing) problems.
And, you can pair it with a six-speed manual transmission if you like. Almost all the others in this class are automatic-only.
You can choose a six-speed automatic in FWD versions, if you prefer.
Models with either of the two optional 4WD systems include a new nine-speed automatic.
The bad news is the 2.4 liter engine is the only available Compass engine now; there's no optional/upgrade. In the Cherokee – which also comes standard with the 2.4 liter four and uses the nine-speed automatic – you can upgrade to a 3.6 liter V6.
Which is a good thing, because the Cherokee is no lightweight: 3,953 lbs. for the FWD version and over 4,000 lbs. for the 4WD versions.
It needs the V6.
And so does the Compass.
A Trailhawk version with the Active Drive Low 4WD system weighs 3,633 lbs. without a driver on board. Add one 200 pound driver and the Compass is pushing 4,000 lbs. That is a lot of beef for just 180 hp (and 175 ft.-lbs. of torque at 3,900 RPM) to deal with.
The thing is slow.
Zero to 60 takes about 10 long seconds. You feel – and hear – each one go by.
Here's where a turbo would help.
For example, the VW Tiguan – which is about the same size as the Compass and slightly heavier – the FWD version weighs 3,404 lbs. – is much quicker: Zero to 60 in the mid-sevens. It also has a higher max tow rating – 2,200 lbs. vs. the Jeep's so-so 2,000 lb. max rating.
Because it has a turbo – and so, torque. Not just more torque (207 ft.-lbs.) but right-now torque.
The VW's maximum twist is available at just 1,700 RPM.
The Jeep's non-turbo four has to spin more than twice as fast before it makes substantially less power.
So, you pays your money and you takes your choice.
The FWD version of the Compass is svelter (3,184 lbs.) but it's still not speedy.
Mid-nines to 60.
And it's also pretty thirsty.
Jeep – and EPA – tout the FWD/manual-equipped versions 22 city, 31 highway, but with either 4WD system and the nine-speed automatic, you can expect to average around 24 MPG, as I did during a weeklong test drive.
But while the Jeep is thirstier than other small crossovers, it can go places and do things they can't.
ON THE ROAD
Other than being slower-than-par for the class – although not appreciably slower than some –  the new Compass is a much more pleasant driver than the old Compass. Which was also under-engined but felt and sounded even more so, because of the continuously variable (CVT) automatic that was paired with its standard engine.
CVTs work by keeping the engine at the point in its powerband where it makes most power. But if there's not much power being made, the CVT will keep the engine revving furiously, extracting whatever power there is, as long as you keep your right foot down. It's like running a car with a manual transmission up to 80 percent of redline in first gear – and not upshifting.
Jeep was wise to ditch the CVT (and the pokey 2.0 liter four that used to be standard in the Compass) in favor of the conventional (fixed gear) automatics now available in the '17 Compass.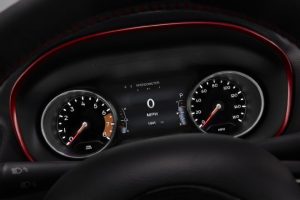 The new nine-speed box that's mandatory with either of the two 4WD systems has its own set of issues, though.
It has so many gears – including multiple overdrive gears on top – that it has to jump up – or down – more gears than a transmission with fewer gears.
This can lead to some strange operating characteristics.
For instance, if you have the cruise control set and are driving on a downhill stretch, the transmission will want to jump up to the top overdrive gears – 8th or 9th – to lower engine RPM as much as possible, in order to reduce fuel consumption as much as possible (this is the sole and only reason for the new crop of automatics with eight, nine and even ten forward speeds).
What happens then is a kind of surging forward sensation – which is what's happening, because when the transmission jumps up to eighth or ninth, there is now very little to no driveline drag/engine braking effect to hold the car's speed.
And when you floor it from a steady cruising speed with the transmission humming along in eighth or ninth, it has to downshift at least two and sometimes three gears to achieve the necessary leverage for forward thrust.
It's a busy box.
A six speed automatic would only need to drop down one – maybe two – gears.
The upside is you can avoid the nine-speed box and go with either the six-speed manual or the six-speed automatic. The downside is both of those boxes are not offered with 4WD versions of the Compass.
Catch 22.
That nit aside, the new Compass is now just as pleasant a ride as other small crossovers like the VW Tiggy, the Mazda CX-5, Hyundai Tucson and the Honda CR-V, notwithstanding its higher-than-most ground clearance and the fact that it has the extra measure of off-road capability the others don't offer.
Its main defect is its surprisingly wide-load 36.3 foot turning circle, which is nearly as wide as the physically larger Cherokee's and about two feet wider than the same-size Hyundai Tucson's (34.6 feet).
On the other hand, the VW Tiggy's turning circle is a startling 39 feet.
AT THE CURB
You have to look closely – and look twice – to discern the difference between the Compass and the Cherokee. From the side especially, they look almost identical – like Bismarck and Prinz Eugen from the perspective of the battlecruiser Hood (much to Hood's subsequent misfortune).
Though it's about ten inches shorter overall than the Cherokee – and so, an easier fit in the garage as well as curbside parking slots – it has nearly as much room on the inside as the Cherokee.
In both rows.
There is 41.8 inches of legroom for the driver and front seat passenger – and 38.3 inches in the second row. The much larger-on-the-outside Cherokee has 41.1 inches of legroom up front and 40.3 inches of second row legroom.
It's roomier, but the point is the Compass isn't cramped.
This is truism that applies to most of the vehicles in the class. "Compact" on the outside they may be; but on the inside, most of them are mid-sized, or nearly so.
Behind the rear seats, there's 27.2 cubic feet of storage space – more than the Cherokee has (24.6 cubic feet) behind its back seats – and 59.8 cubic feet with the back seats folded down – which is also more than its bigger brother, which gives you 54.9 cubic feet with the back seats folded.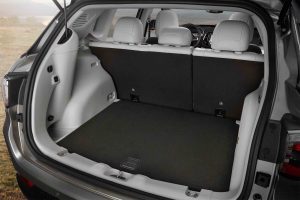 The rear cargo area also features multilevel storage, including a hidden underfloor compartment to stash stuff you'd prefer not be easily seen.
The dash layout is also strikingly similar to the Cherokee's – including the superb Uconnect touchscreen. The system looks good – which a lot of current touch screens do. But more important, it works good –  which a lot of them don't. It neatly integrates tap/touch controls with more familiar (and tactile) rotary knob controls – as for changing channels and volume. The icons are also large and intelligible – as opposed to small and inscrutable.
Depending on trim, you also get a secondary LCD display in between the main gauges – speedo and tach . Standard is a 3.5 inch display, with a much larger 7 inch display available in the higher trims. This can be toggled through to display additional info about engine operation, fuel economy and so on.
THE REST
One thing that is compact about the Compass is its fuel tank – just 13.5 gallons. The Cherokee's holds about two more gallons, which works out to about another 50-60 miles of range, give or take, before you need to pit.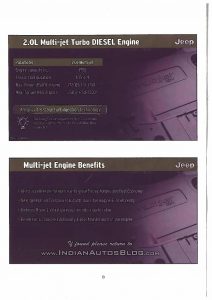 The Compass' relatively small tank combines with its relatively hearty appetite makes it seem less fuel-efficient than it actually is.
Jeep has a solution – it's just not available to us.
In other markets, you can buy a Compass with a Fiat-sourced diesel engine. Either of two diesel engines, actually. These return 30-40 percent better mileage than the 2.4 liter gas engine, but we're not allowed to have them, because of demented EPA "bins" and "tiers" that split hairs over fractional differences in allowable tailpipe exhaust emissions. This is why diesels are scarce in this country. Not because they are "dirty" – but because of idiotic EPA bureaucracy.
One thing that can be laid at Jeep's feet is the electronic parking brake. The entire car industry is bum-rushing to replace pull-lever emergency brakes with these electrically-actuated parking brakes. Chiefly because it frees up space on the center console but probably also because it gets rid of the need to adjust cables – both at the factory, during assembly, and also whenever brake work is done (and as the brakes wear).
So, what's the downside?
There are two, at least. The first is that electronic parking brakes are pretty useless as emergency brakes. You can use one to hold a car in place when it's parked. But engaging an electronic brake while the vehicle is moving – which you might need to do someday, if the main brakes ever fail – will usually lock up the rear wheels, causing a skid.
With a pull-up emergency brake lever, you can manually control the braking force and safely slow/stop the vehicle if you ever need to do that.
The second issue is  . . . the eBrake is one more gratuitous bit of electronic gadgetry that will probably cost you money at some point down the road. On the other hand, a pull-up emergency brake is a lever and a cable. Not much to go wrong and if it does, cheap and easy to deal with.
THE BOTTOM LINE
A bit more horsepower would be nice – and a diesel engine option would be fantastic. But even without those things, the new Compass moves up from an also-ran to a pack leader in this segment.
If you like what you've found here, please consider supporting EPautos. (Latest radio guest appearance can be heard here.)
We depend on you to keep the wheels turning!
Our donate button is here.
 If you prefer not to use PayPal, our mailing address is:
EPautos
721 Hummingbird Lane SE
Copper Hill, VA 24079
PS: EPautos stickers are free to those who send in $20 or more to support the site.