Ok, you asked for it.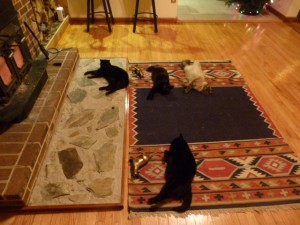 We have 11 cats. Not counting the outside ferals we feed.
How did it happen? One cat leads to another… as any cat person will gladly tell you. In our case, it was a case of strays from a large colony moseying over to (cue Sam Kineson) where the food is.
Well, that's not exactly correct. Our first "new" cat – in addition to the two that moved out to The Woods with us – was (and still is) Beezy Cat, a tuxedo female (black with a white chest spot). She came to us via the rear axle of some good ol' boys and our friend and vet, Sharon Harris. Doc Harris happened to be getting gas at the local green meat store/fillin' station when she noticed a kitten sitting on the rear axle of a jacked-up 4×4 that was also there getting fueled up. She asked the ol' boy if he knew there was a cat under his truck and if it was his. Nope and nope. Doc Harris took the cat – a kitten – back with her to the office. Where we would just happen to be later that day for an appointment. Came with one cat. Left with two.
That's three so far.
Next came The Dude, a small black male (we later found out) who camped out on the back patio porch, looking small and pitiful and young. We later discovered he was just small and adult and malnourished. But very happy to have wormed his way indoors. This cat may be small, but he has a big personality. He yips like a dog for treats and is canny enough to understand how doors (and doorknobs) work. He has also explored our house's ventilation system, accessed by flipping up the floor grates. Once, he managed to get stuck, despite being a very slender and slinky cat. I had visions of ripping up the floor to extricate The Dude. But – Bastet be praised – he eventually reversed himself out.
So, four cats.
Number five – if I am remembering the order correctly – was (and still is) Snowbear, or Lemonjello (as I call her, because her white fur has a tinge of yellow to it). My wife Jill found her when she was maybe seven weeks old out by the coop with a half-gnawed-off tail (possum, we suspect) which we tried for about a week to revive with antibiotics and various other costly poultices – none of which worked. She is now a bobtail cat. As a kitten, she would perch on my shoulder like a pirate's parrot.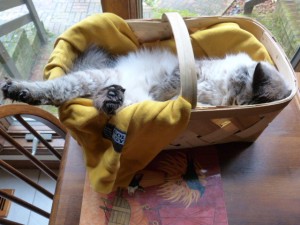 Six is a cross-eyed semi-Siamese we call The Bug because he bugs us for love all the time. He showed up one very cold winter day when I was working in the basement. I happened to look up and there he was at the window, staring at me with those big cross-eyed blue eyes. Feed me! Which, idiot that I am, I did. Which led to the inevitable. He went from hissing feral tomcat to purring inside lapcat. The Bug eats a special high-dollar food to (hopefully) prevent a recurrence of the urinary tract infection that almost killed him – and me, too. Have you ever helped catheterize a cat? I have. For a couple of hours. Luckily – Bastet favors us – the Bug pulled through and has had no further issues.
Meanwhile, our "originals" – Wheatboy and Stumpy, the two cats who came with us to The Woods – passed on. Wheatboy lived more than 20 years, ancient for a cat. His loss was especially hard on my wife, who'd had him almost since she was in college. He's still missed, as is his companion, Stumpycat – who never liked either of us very much (female calicos are notorious this way) but loved her Wheatboy.
Momma Cat showed up around this time. Have you ever seen a Pallas Cat? This is a small wildcat with a stocky body, very short legs and a fierce countenance. Picture that in black (Pallas Cats are fluffy grey-white) and you'll have an idea about Momma Cat. We'd catch glimpses of her, never the whole cat. Until one day she showed up very pregnant. Idiot that I am, I began to feed her, talk to her… and soon, was able to pet her. We decided to let her live in the garage, to have her kittens in a safe place. You know where this is going. After the birth of her brood (all adopted out to good homes) she moved in with the rest of us. She still looks fierce, but it's mostly just for show these days. Mainly, she likes to sleep in her basket by the fireplace. Smart cat.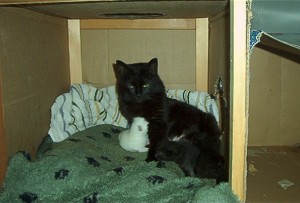 Oh, I nearly forgot her son – who has her head shape but is as benign as she is fierce. A true innocent, this cat cannot conceive if anyone not loving him. Which makes sense, since everyone does. He is extra-large and uber-plush. The sort of cat you want to hug like Charmin. And he lets you, which is part of his charm. The Roll – as we call him, because his signature move is to flop on the cold kitchen tile floor and roll around – is a four-pawed exemplar of everything so many non-cat people mistakenly believe cats aren't. He's as friendly as a Labrador – and fetches like one, too. Throw him his "fish" – and he'll bring it back for another round. And of all our cats, he has super-power hearing. No matter where he happens to be in the house – and whether awake or comatase – you will immediately find him right there if you've opened a bag of cat treats, no matter how quietly you thought you were opening that bag of treats. The Roll knows. And he'll be thunder pawing your way the moment he does know.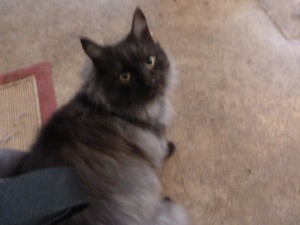 Then came Fuzz. Not a cop. A magnificent Maine Coon Cat in smoke gray. He's got the characteristic double coat (like a Labrador Retriever) and the Bobcat tufts at the apex of his triangle ears, too. He's huge. But like Maine Coons generally, he's a sweetheart. A confident, friendly cat with a booming voice. A presence, everywhere he goes. Fuzz wandered over wounded one day (we'd been feeding him, too, for at least a year prior) and so we took him to Sharon, the vet. She patched him up and of course we couldn't just toss him out. He's been with us ever since.
As have the twins – littermates, we think – Half Hitler and Il Duce. HH is a "saddle cat" with a Charlie Chapin half-moustache. Il Duce looks nothing like Mussolini, but HH needed a collaborator and so the name came – and stuck. (There was a third member of the cat axis, Tojo, but he has since passed.)
Happy Cat is a totally silent mackerel tabby. In all the years we've had him, we've never heard him say anything at all. But he made his wishes plain after we caught him in the have-a-heart trap as a feral stray, took him in for "fixing" and he made no effort – expressed no interest – in leaving the garage. What can you do? Now he's in the house, with the others.
Of which there is one more – our most recent acquisition – The General. He was originally General Tso (for all you Chinese buffet fans) but this eventually became just The General. An orange tom whom we'd fed – outside – for years. But last year – year of the endless polar vortex – we just couldn't take seeing him shivering and wet on the steps out back. So one day, I leaned over and scruffed him and brought him (where else?) to that waystation to sanctuary, the garage. There I eventually gained his trust and now The General is among his troops, warm and well-fed, never to face the ice or snow or rain again.
How many is that, total? I've lost count.
But who's counting?