It was the late '90s and Cadillac was trying to shed the AARP Aura that had enveloped the brand like a sickly fog of Vicks Vapor Rub since at least the late 1970s.
GM's luxury line had been slick and cool and most of all, young  . . . back in its Mad Men-era heyday in the late 1960s. But slowly, gradually, the brand began to Geeze.
BMWs and Benzes became the in cars for those not close to being on their way out.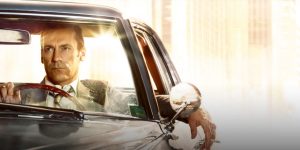 GM's first attempt at code blue defibrillation happened back in the late '90s with the Catera, a quickie rebadge of the European GM (Opel) Omega. It was pitched as "the Caddy that zigs."
It was more youthful than a vinyl roofed, wire-wheeled Sedan deVille.
But it wasn't a BMW 3, either.
Still, a step in the right direction.
The next step was even better – the CTS sedan. Cue Led Zeppelin been a long time since I rock and rolled soundtrack.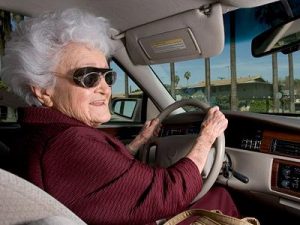 Those with a pulse (and without a pacemaker) began to notice. Some began to buy.
Today – some 20 years after the first tentative steps at changing course, Cadillac has come full circle and is once again a happening brand rather than a past-it brand.
Have a look at this ATS, for instance.
Your grampa will probably hate it.
Which is why you just might like it.
WHAT IT IS
The ATS is Cadillac's entry-level sedan (and coupe). It's in the same general class as the Mercedes C-Class, BMW 3 and Lexus IS.
Like them, it is based on a rear-wheel-drive layout (with AWD available optionally) and offers two engine choices, including a turbocharged four cylinder engine in the base trims and a more powerful V6 in top-of-the-line trims.
You can also get a manual transmission in this Cadillac – an example of "zig."   
Base price is $34,595 for the rear-wheel-drive sedan with 2.0 liter turbocharged four cylinder engine and a six-speed manual transmission; you can upgrade to all-wheel-drive for $36,595.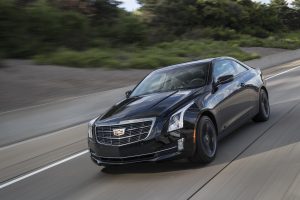 A top-of-the-line Premium Performance trim with the V6 and RWD stickers for  $46,995; there is also an AWD-equipped Premium Luxury trim (also with the V6) that stickers for slightly less – $45,995.
The base ATS coupe starts at $37,595 with the 2.0 liter turbo four and manual transmission and tops out at $48,995 for one with the V6, an eight-speed automatic and AWD.
There is also a a high-performance "V" version – but these are effectively separate models and will be reviewed separately.   
WHAT'S NEW
The ATS is no longer available with the non-turbocharged 2.5 liter four that was available last year. All trims now come standard with Cadillac's CUE LCD touchscreen, which was previously optional in the lower trims. It includes 4G WiFi capability.
The CUE touchscreen interface has been updated as well and 4G Wi-Fi capability is standard equipment in all trims.
WHAT'S GOOD
335 hp V6 engine is a beast when called on; it's the strongest engine in this class. And you can get it with burnout-friendly RWD (Benz C-class with top-dog V6 comes only with AWD).
Eight-speed automatic shifts like a well-oiled switchblade.
Styling befitting a latter-day Don Draper.
WHAT'S NOT SO GOOD
Manual is only available with the four and only with RWD.
Back seat is really tight; less leg and headroom than several rivals.
CUE will drive grampa into the ICU.
UNDER THE HOOD
You've got two options – caliente and muey.
The base engine for 2017 is the 2.0 liter turbo four that was the mid-range engine last year. It produces 272 hp and 295 ft.-lbs. of torque at about 18 pounds of boost – vs. 202 hp and no boost for the now-retired 2.5 liter non-turbo four.
Cadillac tout it as the strongest standard engine in the class – which it is.
The RWD version – which is the quickest version – gets to 60 in about six seconds flat abd carries an EPA city/highway rating of 19/30; with the optional and slightly more fuel-efficient eight-speed automatic, mileage upticks slightly to 21 city, 30 highway. With AWD and the now-mandatory automatic, mileage is split the difference – 20 city, 28 highway.

The optional 3.6 liter V6 makes 335 hp. You can go RWD or AWD – but this engine comes only with the eight-speed automatic, regardless.
But it'll sate your need for speed: Mid-fives to 60 and the capability to almost bury the 160 MPH speedo on top.
Gas mileage is nearly as good as the four's, too:
18 city/28 highway with RWD and 18/26 with the optional AWD.
This is actually slightly better than last year, when the V6 was less strong (and came paired with a six-speed automatic). Credit for the mileage uptick goes to the new eight-speed box and cylinder deactivation technology.
Under light load conditions, such as steady state cruising on the highway, the engine's computer shuts off the flow of fuel to two of the V6's cylinders, reactivating them as necessary when more power is needed. The operation of the system is seamless; the only way to tell anything has changed is by taking note of the small LCD display in the main gauge cluster.
"V6" – or "V4" – will illuminate.  
Less seamless is the obnoxious stop-start system that's now included (want it or not) with both the V6 and the 2.0 turbo four. Unless you manually disable the system by pushing a button near the gear shifter, the engine will cut off when the car is stationary, as when you roll up to a red light. It will re-start when you take your foot off the brake.
This is not just a Cadillac Thing. Every major car company has added a similar system to their vehicles for the sake of incremental fleet average mileage gains – to placate Uncle and his CAFE fatwas.
Send fan mail to Uncle.
On the other hand, the punchy V6 is designed to burn regular unleaded – not premium. The top-dog engines in rivals like the BMW 3 and Benz C demand premium.
Send fan mail to Cadillac.
ON THE ROAD
If anything, the ATS may be a touch too youthful.
It's a car that makes 14-year-olds  grin when the automatic seatbelts cinch tight as you drift them through a corner posted 35 at 60, the Caddy's rear tires smearing the asphalt with molten rubber. In Sport mode, the eight-speed automatic behaves as belligerently as Donald Trump on a Red Bull bender, keeping the engine's revs up in the curves and waiting until it bounces off the limiter (7,000 RPM for the V6) before conceding a begrudged upshift to the next gear.
God bless Cadillac for letting you buy the 335 hp V6 without AWD. And for programming the traction control system so that it goes off when you push the button on the center console.
Did I mention burnouts?
And yes, we are talking about a Cadillac.
Re-read that part about changing demographics.
This Cadillac will make grampa fill his Depends. He'll want out. But you'll want in. There's no AARP sticker on the back bumper of this one; no pop-on wire wheel covers that fly off in the curves, either.
The tested Performance trim (available with the V6 or the 2.0 turbo engine) comes with staggered-size Bridgestone Potenza eighteen-inch low-profile sport tires (225/40s on 18×8 rims up front,  255/35s on 18×9 rims out back) that have no sidewalls to speak of and absolutely will not lean.
The downside is a ride that's pretty stiff; you'll want to be sure you can live with it before you commit.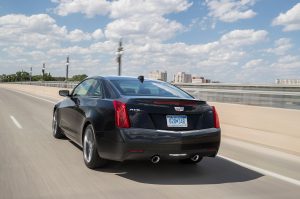 You can raise the stakes even higher by stepping up a notch to the deceptively innocuous-sounding Premium trim, which adds a heavy duty 8.6 inch rear axle (standard issue is 7.67) with mechanical (not electric) limited slip.
As Iron Sheik used to say, it's the real deal.
The LSD really ought to be standard in a car this powerful that's got all that power going to just two wheels . . .  the rear wheels.
Watch out on the wet.
The Premium also gets you auto-adjustable shock damping and run-flat Potenzas on those eighteen-inch rims. In addition, there's a heads-up display (HUD) that projects your speed (and the speed limit on the road you're on) in your line of sight, holographically – so it's not necessary to glance down at the gauges to scan that info.
Cadillac will even sell you a Track package (RWD versions only) on top of all that. It includes a high-performance Brembo brake package and heavy-duty cooling. Nineteen-inch wheels can be dealer-installed, if you really want a Caddy that zigs.
Put that in your Sedan DeVille and smoke it.    
Or, go with the Luxury trim, which rides on more forgiving 17-inch wheels and all-season tires. You can still get the V6 and all 335 hp, though – so acceleration is the same. The handling's a bit less Grand Theft Auto, but the car is much more everyday agreeable.
Regardless, the car's a runner – and a cornerer. Near-perfect 50-50 weight split. Compact dimensions; fairly light (3,319 lbs. vs. 3,340 for the BMW 3 and 3,417 for the Benz C) a shorter wheelbase than others in this class, quick (but not too light) steering) and the availability of a six that outguns pretty much anything in its class make this car a comer.
And, a goer.
AT THE CURB
One of the lesser miracles of our age is that car designers have figured out how to give small – and entry level – luxury cars the presence they used to invariably lack. Examples of the former include the Catera of the late '90s and, of course, the infamous early-edition Benz 190s …which still get laughs today.
The ATS has the upper-class ambiance essential to success in this class today. The slit-eyed/swept-back (fully horizontal as they bleed back onto the fenders) headlight assemblies, a very distinctive lattice grille treatment and body panels that suggest billet rather than plastic – formed into jaunty angles (a theme cribbed from the mid-sized CTS) – give the ATS a modern Mad Men vodka martini and unfiltered Marlboros mien.
It's a car Don Draper would buy.
Cadillac did a fine job inside, too. "Cut and sewn" panel pieces, crushed suede and wood trim inlays, real metal (not plastic made to look like metal) for the paddle shifters, a "configurable three window" LCD main gauge cluster and a tablet/smartphone-style secondary LCD CUE (Cadillac User Experience) touchscreen (and pinch-screen) display in the center stack do not disappoint. The look/feel and function are very similar to what you'd find in a higher-end model like the CTS or the XTS.
Premium-tech, too.
For instance, the available collision mitigation system, (automatic braking) works in reverse, as well as when you're moving forward. If you don't happen to see a car behind you while you're backing up, the ATS will automatically apply the brakes in time to avoid a collision. Other cars in this class are forward-crash avoidance-only.
The chief difference between an ATS and a CTS or an XTS is size.
Speaking of which:
The ATS is a somewhat more compact car than other compacts in this segment.
Not necessarily overall (the BMW 3 sedan, at 182.2 inches, casts virtually the same shadow as the 182.8 inch long ATS sedan) but inside.
Here we come to the Caddy's biggest deficit relative to rivals: its more confined cabin.
The sedan's back seat has 33.5 inches of legroom – and 36.8 inches of headroom. As compared with 35.2 inches of legroom (and 37.1 inches of legroom) in the Benz C sedan and 35.1 inches of legroom (and 37.7 inches of headroom) in the back seat area of the BMW 3.   
The Caddy fires back with more front seat legroom (42.5 inches vs. 42 in the 3 and 41.7 in the C) but the ATS' interior designers probably should have shaved off an inch up front for the sake of the backseaters. The front-rear real estate disparity in this car is similar to what you'd find in a Benz CLA "coupe" (it's also a sedan) but that car sacrifices back seat viability for the sake of swoopy two-door-with four-doors styling.
It's a liability in a straight-up sedan like the ATS.   
The Caddy's trunk is also very small – just 10.4 cubic feet (vs. 13 cubic feet for the BMW 3 and 12.6 for the Benz C).
Still, it's a small gripe given the overall goodness of the thing.
THE REST
Some reviewers have kvetched about Cadillac's CUE interface, with its swipe/touch inputs and "haptic" feedback (you'll feel a pulse emanating from the surfaces as you swipe/touch them).
But the system – with its large icons for the main menu items – is in some respects easier to use than some other systems that have tiny icons and require multiple steps to get the thing to do what you want.
The chief functional issue with the CUE flat-panel is that its sometimes hard to touch the exact spot you want on the thing while the car's moving. If you miss, you might launch an app you didn't want – or change from Sirius to FM when all you wanted to do was change the station. Stuff like that. There are secondary controls for some key functions (volume, for instance) but the inherent ergonomic flaw of a pinch-swipe-tap-touch flat screen in a moving car remains.
Other than that, what's not to like?
And if you need more power, there's always the ATS-V.
Go out and hurt you a BMW M3. Old school. Put him in the camel clutch, make him homble.
THE BOTTOM LINE
The smell of Noxzema has been replaced by a much more appealing smell. The smell of burning rubber.
If you like what you've found here, please consider supporting EPautos.
We depend on you to keep the wheels turning! 
Our donate button is here.
 If you prefer not to use PayPal, our mailing address is:
EPautos
721 Hummingbird Lane SE
Copper Hill, VA 24079
PS: EPautos stickers are free to those who send in $20 or more to support the site.