Cars used to be like motorcycles still are (for now). You could even buy them with air-cooled engines, just like you can still buy bikes with air-cooled engines. No radiator to leak or water pump to fail or hoses to burst and leave you stuck by the side of the road – and later, holding an expensive repair bill.
Air-cooled engines are also light. They are usually made of aluminum – to dissipate heat more effectively – and they don't need water jackets – or gallons of water sloshing around inside them. They make great economy car and sports car engines.
Then along came Uncle.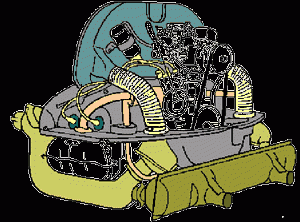 Air cooled engines (in cars) were killed off – not by lack of buyer demand – but by government demands. For the two usual reasons . . .  saaaaaaaaaaaaaaaaaaaaaaaaaaaaaaaafety and emissions. If it wasn't the car the air-cooled engine was in, it was the air-cooled engine itself. They run hotter. And it is harder to regulate their operating temperature within the narrow range necessary achieve compliance with Uncle's latest exhaust emissions fatwas.
This last was what finally extincted the last air-cooled engine – the Porsche air-cooled boxer six – back in 1998. Not because it was "dirty." There hasn't been a "dirty" car made since the late 1980s.
It merely didn't comply with the latest round of ever-stricter EPA standards, which by now split hairs over "Bins" and "Tiers," with one Bin or Tier allowing fractionally less of this or that exhaust byproduct.
So, let's have a look at what we can't have anymore – and why.
* Volkswagen Beetle –
Designed by Ferdinand Porsche (with input from you-know-who) back in the mid-1930s, the original Beetle was decades ahead of its time, which is probably why it remained in production largely unchanged for decades. It featured "one piece" unibody construction, with the body and structural frame welded together rather than having a separate (and heavy) stamped steel frame onto which the body panels were bolted, as was general practice at the time.
But the centerpiece of the car – what made it a work of genius – was its simple, compact air-cooled boxer four cylinder engine. The engine only weighed about 200 pounds (a modern water-cooled engine typically weighs twice that) and could be removed and installed by hand, by one man, with basic hand tools.
It had one belt – to drive a fan that not only forced cooling air over the engine but also directed warm air (heated by the engine) through clever ductwork into the car's interior, to keep the passengers warm. And it warmed them almost immediately, even on ice-cold days – because air-cooled engines warm up much faster than water-cooled engines.
It's true the ductwork sometimes also brought things besides warm air into the passenger compartment, but that was usually due to lack of maintenance (such as an oil drip from a leaking gasket) and easily and inexpensively fixable.
Which was the car's other charm.
Four spark plugs, a set of contact points, some carburetor cleaner and a few basic tools were all one needed to tune up a Beetle. And because the basic car and most of its parts – mechanical as well as cosmetic – had been in continuous production for decades, largely unchanged, parts were easy to find and cheap. Parts that fit a '75 usually fit a '65. Or even a '55.
It was one of the least-expensive cars to keep as well as to buy.
But it wasn't  . . . saaaaaaaaaaaaaaaaaaaaaaaaaaaaaaaaaaaaaaaaaaafe – as defined by government crash test standards. It didn't matter that the Beetle was just as safe as an S-Class Mercedes sedan if you didn't wreck it – and most people didn't wreck theirs. All that mattered – from a legal/regulatory standpoint – was that the Beetle did not do as well as the S Class when it was purposely pile-driven into a barrier during government crash testing.
A car designed in the 1930s couldn't meet saaaaaaaaaaaaafety standards decreed forty years later.
The last new one was sold here in 1977.
But you could still buy a new (old) Beetle in Mexico and other countries not subject to Uncle's edicts for the next 20—plus years afterward.
* Chevy Corvair –
The real Super Beetle. Same concept: unibody, rear-engined and air-cooled engined. But on a grander scale.
GM saw the success of the Beetle – and was envious. It was the late 1950s and more and more Americans were turning away from the increasingly dreadnoughtian land yachts that American car companies then specialized in. Particularly the emerging postwar youth market, which wanted something different.
Something more like . . . the Beetle.
Just, better.
The Corvair – which made its debut in 1959 as a new 1960 model – was the answer.
It was a small car, but much roomier inside – especially the back seats – which were human adult viable while the Beetle's were cruel and unusual punishment. Also, the Corvair was available in multiple bodystyles – sedans as well as coupes  – while the Beetle was always and only a two-door.
It had a huge trunk, too – so it was able to carry stuff as well as people.
And under the louvered rear cover, there was an air-cooled boxer six instead of a four. Just like a Porsche! You could even get it with four carburetors – or a turbo. But unlike a Porsche, the Corvair was affordable. Which accounted for the Corvair quickly finding fans GM never intended, who saw it as the poor man's Porsche.
This proved fatal – with an egging on by a then-unknown shyster lawyer named . . . Ralph Nader.
The Corvair was a sensitive car. Tire pressures, which differed significantly front-to-rear, were critical because of the tail-heavy/nose light configuration – just like a Porsche. Porsche people – being sporting types familiar with these facts and used to the rear-engined car's tendency to oversteer – drove their cars with the necessary respect and all was well. But some people who bought Corvairs didn't maintain the tire pressure differential according to factory specs – filing all four to the same pressure – which induced dangerous oversteer when cornering at a fast clip, for which many of these people – sans the necessary wheelman skills – were not prepared. Nader exploited the negligence and incompetence of these drivers to smear the Corvair as "unsafe at any speed," which it wasn't.
If it was, then so was the Porsche 911 – and for that matter, the Beetle. All three shared a very similar layout/design, including their four-wheel independent suspensions and tendency to oversteer if pushed hard in a curve, particularly if the driver did the neophyte thing and took his foot off the accelerator mid-corner. This tendency was always made catastrophically worse by incorrect air pressure.
But that wasn't the car's fault.
Nader made hay – and became famous – false-witnesseing against the Corvair, which GM cancelled after the 1969 model year.
Instead of a light, efficient, simple car American buyers were purveyed genuine automotive atrocities such as the Vega – with its-prone-to-melt water-cooled/front-mounted engine.
Send a thank you note to Ralph.
The ugsome toad is still croaking around.
* Porsche 911/993 –
In the original Mad Max movie, Max is taken into the basement garage of the cop shop and shown "the last of the V8 interceptors." The movie resonated with fans because at the time – it came out in 1979 – Middle Eastern contretemps had instilled great fear that gas would soon be either rationed or so expensive almost no one would be able to afford it anyway. As it turned out, V8 interceptors continued to be available – there are several such available today (e.g., the Dodge Challenger R/T, Chevy Camaro, Ford Mustang).
But you can't buy an air-cooled Porsche any longer.
Not because of saaaaaaaaaaaaaaaaaaaaaaaaaaaafety. But because of fractionally/occasionally higher-than-allowable emissions.
The farce – the tragedy – is all the more so because of the minuscule number of air-cooled Porsches that were built. Unlike the Beetle and the Corvair, both of which were mass-produced in the hundreds of thousands (millions, in the case of the Beetle) the total production of air-cooled 911s (later versions were called 993s) from the first 1963 model through the last 1998 model is so low as to make the cars irrelevant as far as their emissions.
It is almost certain that a dozen or so army tanks foul the air more meaningfully than every single air-cooled 911, collectively, ever did.
But of course, Uncle's toys are not subject to the same standards he imposes on our toys.
The air-cooled 911/993s weren't the quickest Porsches. They are far outclassed by the new water-cooled Porsches as far as 0-60 and quarter mile times. But they were the last elemental Porsches. Like a Beetle, you can tell one's coming by ear. The new water cooled ones' sounds are muffled by all that water – and by all that metal (needed for the water jackets).
It is not the same.
They new ones are also heavier – and bigger. Tanks, in comparison with what went before.
That is, before Uncle – and his homogenizing, soul-sucking micromanagement of everything on wheels.
If you like what you've found here, please consider supporting EPautos. (Latest radio guest appearance can be heard here.)
We depend on you to keep the wheels turning!
Our donate button is here.
 If you prefer not to use PayPal, our mailing address is:
EPautos
721 Hummingbird Lane SE
Copper Hill, VA 24079
PS: EPautos stickers are free to those who send in $20 or more to support the site.