The car business has become like the computer business – things change fast. Models change – radically – every four years (and sometimes every three) rather than once every eight (or ten) as they used to back in the '90s and before. Features undreamed of or found heretofore only in very expensive/exotic cars (touchscreen displays, seat heaters, panorama sunroofs) are now as common as floor mats. What else has changed? And what else should you "hip" yourself to? Here are a few to chew on:
* For the first time ever, it may make more sense to lease – that is, to rent – rather than to buy.
Part of the reason for this is that the cost to buy is too high (for a growing number of people) and the car companies have had to resort to extreme measures to keep inventory from stacking up on dealers' lots. Example: Very recently, GM would rent you a Volt electric car for just $200 a month. For the simple reason that very few people were buying $34,000 (to start) Volts. You do the math. How much would it cost you to chew down $34,000 over say six years vs. just renting the thing for $200 a month?
The principle applies generally. Take a look. See what's available. It may well be that it makes more sense to rent rather than to buy. You'll have a lower monthly payment; no worries about repairs (and possibly, maintenance; some contracts include routine maintenance as part of the deal). Drive a new vehicle more often.
Of course, you'll also always have that monthly payment (rent).
* A high-end oil change could save you money and will definitely save you hassle.
You've probably heard about extended oil change intervals – as long as 10,000 miles or more (vs. the previous once every three-four months and 3,000 miles). Part of the reason for the increase has to do with the way modern engines are designed – and run. They're built to closer tolerances for one and for two, they burn fuel very precisely. Much less of it ends up (unburned) in the oil, so the oil lasts longer.
Another big factor is the type of oil (and filter) you use. A non-synthetic "good quality" oil that meets basic specifications and filters will usually require more frequent changeouts; typically on the lower end of the manufacturer of your vehicle's recommended intervals. It's not the oil (or filters) are "bad." They just aren't designed to maintain their protection as long as high-end oil and filters. So, if you go with (to name names) a good but basic mineral oil such as Pennzoil and a Fram oil filter, you may need to change them out once or twice a year (or when you hit say 6,000 miles or so; read the service recommendations for your specific vehicle for exact time/mileage intervals). But if you go with a high-end oil (Amsoil, for instance) and filter (Wix, K&N) you may be able to safely extend the changeout interval to 10,000 miles – maybe even 15,000 miles.
So, you'll deal with oil and filter changes less often – and your engine will enjoy the benefits of superior protection, especially at extremes of cold and heat – which ought to increase engine longevity as well as performance and economy.
Of course, the up-front costs (of the high-end oil and filters) will be higher. The best synthetic oils (such as Amsoil) typically cost about 30-40 percent more than a good quality standard mineral oil.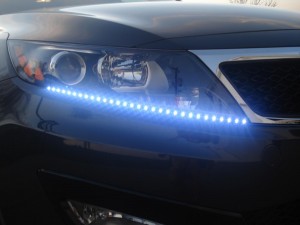 * LED lights – very popular features now offered (or standard) on many new cars – provide enhanced illumination but look out when it comes time to replace them.
"LED," of course, is the acronym for Light Emitting Diode. The car companies are using them as styling accents; as "surrounds," for example, around the car's headlights or brake lights or even as the car's primary head (and brake) lighting.  They look nice – and they increase the car's visual footprint, making it easier for others to see as well as for you to see. But replacement costs can be just as luminous.
Typically there are half a dozen or more LEDS in series rather than (as in the past) a single bulb providing the illumination. Each LED might cost $20 (or a lot more than that). When one goes, the others are probably not too far behind. Instead of replacing just one bulb, as was once the rule, you may be looking at replacing dozens of them. The six to twelve around each headlight; each brake light. Then the other bunch of them in the "third eye" center high mounted (CHMSL) brake light.
You don't even want to know what it'll cost you if you bump into something at the supermarket paring lot and crack/break the plastic housings these things are mounted in.
* Unjamming a locked-up gear selector: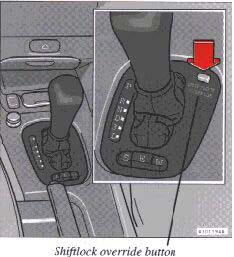 More and more cars are "drive by wire" – which means that the accelerator, brake pedal and gear selector (automatic-equipped cars) do not connect to components via mechanical cables. Instead, they transmit inputs electronically – hence the term "drive by wire." A fairly common problem that crops up is that – for one reason or another – the computer locks the automatic transmission gear selector in Park. Tug on it all you like, it'll break before it moves out of Park.
Time to call the truck? Maybe, but before you do, look around the base of the gear selector. There should be what looks like a little cut-out or tab. Underneath this will be a release button. Push it and the gear selector should now move normally and the car ought to be drivable. It may not drive normally (when this happened to me recently – brand-new press car – it would not shift out of first gear and I had to limp the car home that way) but at least you won't be stranded, possibly in a not-safe place.
PS: If you don't see a cut-out or tab, try to pop up the trim plate around the shifter lever. This was the case in the press car I mentioned above. Then look for the release button. It will typically be a yellow button and very obvious.
If you value independent media, please support independent media. We depend on you to keep the wheels turning!
Our donate button is here.
 If you prefer to avoid PayPal, our mailing address is:
EPautos
721 Hummingbird Lane SE
Copper Hill, VA 24079
PS: EPautos stickers are free to those who sign up for a $5 or more monthly recurring donation to support EPautos, or for a one-time donation of $10 or more. (Please be sure to tell us you want a sticker – and also, provide an address, so we know where to mail the thing!)