John Walsh wants to catch every fugitive profiled on his CNN show, "The Hunt." But he wants to catch Daniel William Hiers a bit more than most.
"I have been looking for Dan Hiers for over 10 years. I had the 'John Walsh Personal 10 Most Wanted,' and Dan Hiers is still on that list," Walsh says on Sunday night's episode, airing at 9 p.m. on CNN. "He gives cops a bad name."
Daniel William Hiers, 42
Wanted for the murder of his wife, for committing lewd acts on a child under the age of 16, and for first-degree criminal sexual conduct with a minor
Last seen May 2005
Speaks in a distinctive, high-pitched southern drawl
Trained in martial arts, known to maintain a high level of physical fitness
Hiers, a Charleston, South Carolina, police officer, gained the trust of a single mother with a young daughter. He is accused of molesting the girl for months in 2003 and 2004.
On March 15, 2005, he was due to turn himself in to authorities but never turned up. When the police searched his home, Hiers was gone and his 24-year-old wife, Mila, was dead, shot once in the back of the head.
"This is a coward, a child molester, and a brutal murderer of a woman who loved him so much," Walsh says. "He's cunning, he's smart, a former cop, and lucky. And someday his luck's gonna run out."
The episode will mark the first on-camera appearance of Hiers' alleged molestation victim, now an adult. "I want him caught because he killed his wife. And because of what, you know, he did to me, but more for what he did to Mila," she tells "The Hunt."
Hiers is an ex-policeman, trained in martial arts and known to maintain a high level of physical fitness. He enjoys basketball. He plays the piano. He speaks in a distinctive high-pitched Southern drawl. If you've seen Dan Hiers or know anything about his whereabouts, remember, he may be armed and dangerous. So please, make that call to 1-866-THEHUNT or go to our website at
CNN.com/TheHunt
. You can remain anonymous. We'll pass your tip on to the proper authorities, and if requested, will not reveal your name.
CNN's Randi Kaye reported on the case. Below is her story from May 7, 2005.
Officer accused of murder, molestation
By Randi Kaye, CNN
This story was originally reported on May 7, 2005
Once a respected police officer in Charleston, Daniel William Hiers is now the focus of an international manhunt — accused of child molestation and murder.
The allegations against Hiers left one South Carolina woman "in total shock." "I was scared," said Leslie, who asked that her last name not be used because she is accusing Hiers of molesting her 11-year-old daughter.
Leslie said her daughter met Hiers in karate class. He showed no interest in the mother but a strong interest in the girl, who is 20 years younger than Hiers. He took her shopping, bought her expensive gifts, drove her to karate class and twice sent her flowers.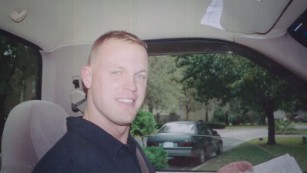 Leslie, a single mom, said she was suspicious at first but grew to trust Hiers. She even planned to designate Hiers as the girl's legal guardian in case of emergency.
"He stepped in as a father to my daughter, and I used to thank God for him," Leslie said. "I would pray and thank my God."
Leslie said that changed when, after watching a video about inappropriate touching at school, the girl told her mother that Hiers had been touching her. "I gave her a hug and I told her everything was going to be OK," she said through tears. "That was hard."
According to police, Hiers would take the girl to places such as a Wal-Mart parking lot, fondle her repeatedly and make her touch him.
"She said that every time that they passed by there that she knew what was going to happen, especially when she noticed that the truck was slowing down," Leslie said. "And that she was just too scared to do anything."
Leslie said Hiers threatened her daughter, telling her she'd get in trouble if she talked about the alleged abuse and that no one would believe her because he was a police officer.
But investigators did believe her. They moved to arrest Hiers and charge him with lewd acts with a minor. It was then they discovered Hiers had a wife.
'None of us knew'
Hiers met Mila Cohe de Araujo in 1996 when she was vacationing in Miami, Florida, from Brazil. Hiers was 23 and Mila 15. They married two years later. "I believe my family, everybody, was fooled by him," said Mila's sister, Alessandra Cohe de Araujo.
Alessandra said she remembers how charming Hiers could be. She also remembers how distant he became as his wife grew older.
"They didn't have a normal sexual life. They used to pass a month or three months without having any kind of contact," she said.
The couple eventually stopped going out together.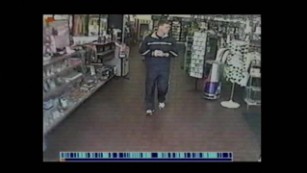 PLAY VIDEO
A local karate instructor called the fact that Hiers was married "the biggest shock."
"We had no clue he had a wife. None of us knew," Dale Coker said. Coker owns the karate school where Hiers befriended Leslie's daughter. He said he talked with Hiers every week and never heard any mention of a wife. "We never saw a wife; he never brought her for any special events we had. We've never seen her," he said.
Leslie said she and her daughter never met Hiers' wife, either. He told them she had gone back to Brazil to file for divorce.
"He is mysterious, very much mysterious," Alessandra said.
Alessandra said her sister pleaded with Hiers to stop spending so much time with Leslie's daughter.
Alessandra said her sister once told her, "Dan loves to stay with the little girls. I think that when we have children, he'd want to be the father of a girl."
International search
Then police began to uncover disturbing evidence of Hiers' alleged treatment of Leslie's daughter. As he was about to face more serious charges of molestation, the case took a deadly turn.
After Hiers failed to turn himself in March 15 to face a second round of charges, his wife was found dead at their home. Hiers was missing, launching an international manhunt.
According to police, Mila was shot while she slept, and neighbors reported seeing Hiers going in and out of the house at about the time of the killing. Hours later, a surveillance camera captured Hiers at a gas station. He withdrew several hundred dollars from the store's ATM, waved to the cashier on his way out — and hasn't been seen since.
In Hiers' hometown of Hampton, South Carolina, wanted posters hang in store windows, and the manhunt is still front-page news. But many who knew him and his wife refuse to believe the charges.
"They were very happy," said Tracie Anderson, a family friend. "He'd whisper in her ear, and hug up on her.
"She was a shy girl," Anderson said. "It was cute to watch them. He was very loving to her."
The. Rev. Kelly Fox, a spiritual adviser to the family, said he hopes Hiers turns himself in to prove his innocence.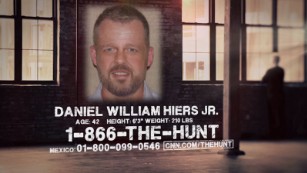 "I would have to have a picture of him doing it before I could believe it," he said. "It does not make sense."
But as the charges against Hiers mounted, authorities said he may have been preparing for life on the run, growing a beard and gaining weight. A grainy picture taken with a friend's cellular telephone camera shortly before Hiers disappeared, authorities said, shows Hiers experimenting with his appearance. U.S. marshals said they're developing strong leads as they hunt for a man some now believe was leading two lives.
"We're stuck here until he's found," Leslie said.
The waiting, Alessandra said, is "terrible."